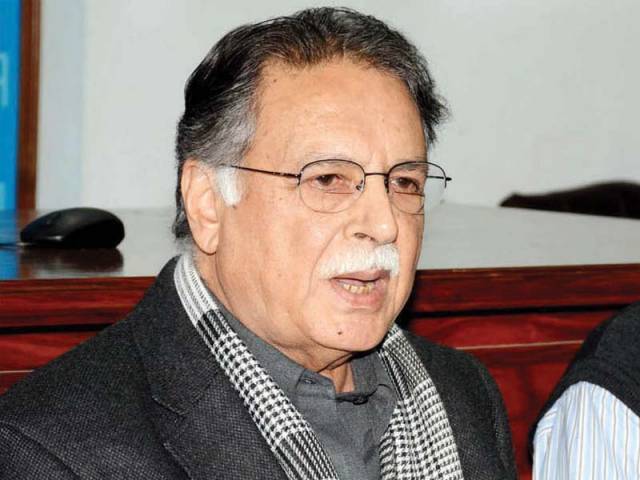 ---
LAHORE:
Senior PML-N leader and former information minister Pervaiz Rashid on Friday challenged the Election Commission of Pakistan's decision of rejecting his nomination papers for the Senate election scheduled for March 3.
Rashid challenged the impugned order at the Punjab Election Appellate Tribunal of the Lahore High Court, saying that he was ready to address the objections raised by the returning officer.
The election tribunal is expected to take up Rashid's plea tomorrow (Saturday).
One of the objections pertained to a purported demand raised by Comptroller Punjab House, Islamabad through a notice on January 17, 2019 for an amount of Rs6.9 million and another notice for an amount of Rs2.65 million, making a total of over Rs9.5 million.
The Punjab government had released a list of people, including Rashid, who had not cleared their bills for staying and taking meals at the Punjab House.
At the time of scrutiny (Feb 17 and 18), the respondents (objectors) Rana Mudassar Umer, advocate high court, and Zainab Umer, member of the Punjab Assembly, filed objections against his nomination papers.
The plea stated, "No one entertained appellant's request to accept cash deposit or even the cross-cheque. It would not be irrelevant to mention here that the same day appellant filed an application before the learned RO seeking a direction to concerned respondent or any appropriate officer to accept the purported amount. The said application was entertained but no positive order was made by the learned RO.
Read more: PTI, PML-N candidates win two Senate seats unopposed
"Later on February 18, the appellant yet again did his best to deposit the amount but to no avail. Resultantly, the appellant appeared before the learned RO and filed another application, stating therein that the appellant has been denied the deposit of payment by the concerned quarters, therefore, the appellant has prepared the cheques of the amount equivalent to the demand raised by the Punjab House, as indicated in the notices."
The appellant submitted that he was willing to deposit the said amount in any bank account if the information was provided.
It was urged before the learned RO that since a demand has been raised, therefore, the Election Commission/RO may kindly issue an appropriate direction for entertaining the deposit of the amount so raised.
"The fate of the application is not known to the appellant, whereas, the learned respondent RO announced a verbal order in the presence of the appellant that his nomination papers are rejected due to non-deposit of the alleged amount raised through notices."
He prayed the tribunal that the impugned order passed by RO on February 18, 2021, whereby the nomination papers of appellant have been rejected, may graciously be set aside and the nomination papers of the appellant for Senate election (general seat, Punjab) may kindly be accepted.
COMMENTS
Comments are moderated and generally will be posted if they are on-topic and not abusive.
For more information, please see our Comments FAQ