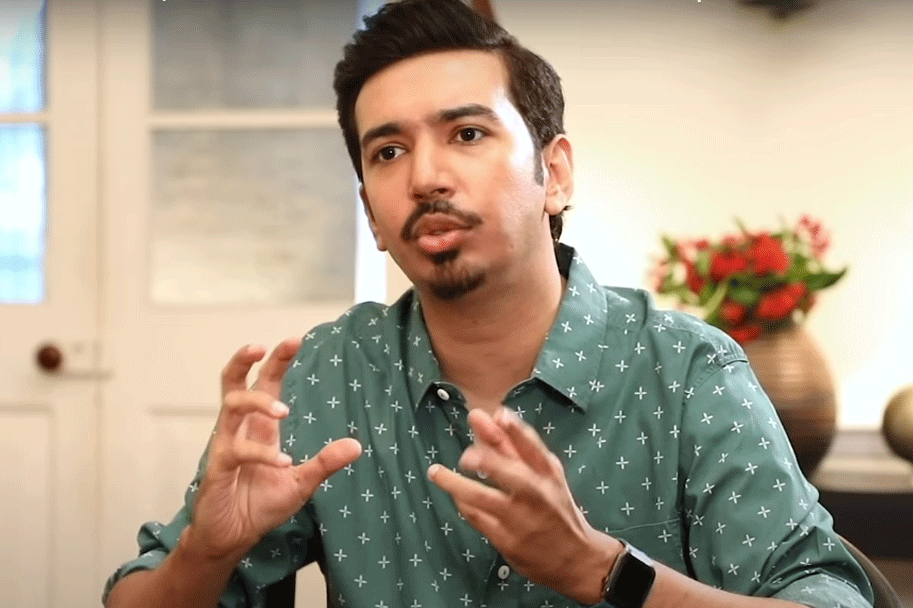 ---
Touted to be one of the pioneers in vlogging, Mooroo is someone who calls a spade a spade. Owing to his brilliant content – something that has evolved over the last few years – the YouTuber has a fan following of 987k.
In a recent interview with Mira Sethi, the artist spilled the beans on his marriage, how he strives to make his content better and the banning culture.
On his married life
"When I was about to message you (for the show), I saw your WhatsApp status," Mira began. "It has gone from 'Mooroo will marry for love to Mooroo married for love'. What did you mean by this? Even this status feels quite ancient, no?" Mooroo laughed. "Whenever I met someone and saw them as my partner, I would initially tell them that if there will be love (between us), only then there will be a marriage. Then I finally fell in love and got married. And it was imperative for me to reflect that."
In 2019, the YouTuber tied the knot with Eruj Hadi. Mooroo's wedding became a hot topic when many lauded him for breaking the stereotype of marrying a 'gori dulhan'. Responding to trolls at the time, he had said, "People do not get married for humanitarian reasons or to break stereotypes or for making social statements. They marry because they love each other. The lucky one is me for meeting someone so talented, beautiful and intelligent."
Two years on, and the internet sensation is still in awe of his wife. And, he gives her due credit for it.
The couple's wedding video was praised by many and Mooroo has now shared how important it was for him to take Eruj's point of view into consideration while making it. "When I started editing the video, I could only see that it was through my eyes. So, I asked her to write her point of view," he revealed. "Hence, you see one thing from my perspective and then you see something entirely different from hers. It was a good collaboration. I have seen so many wedding videos; I just wanted to tell a story."
Talking about when they first met, Mooroo shared it was at the sets of a song he had penned for his ex-girlfriend. "It was the first music video by Salman Noorani. He was the one who got Eruj and was scared of her as well," he laughed. "I am afraid of her sometimes too. She's very self-sufficient and you can't boss her around."
On his evolving content
The YouTuber, without a doubt, is the best in his game. His content has evolved for the better and Mooroo acknowledges it too. The vlogger is popular for his videos on education and evolution. Talking about the purpose of putting out such content, he said, "I have an interest in such topics. I keep thinking and pondering over them. Since I keep absorbing such content, I want to impart the same to my audience."
Mooroo's calling came when he landed in hot waters after a video, he posted more than a year ago. Known for his witty humour, the vlogger had engaged in a conversation with a spider present in his room.
The supposedly 'light hearted' exchange took a turn for the worse when he used the word 'child molester' to make a pun. "If you (spider) crawl in my mouth and reproduce, I will eat your children up. Mein tou hun hi child molester (I am a child molester anyway)," he had said in the clip. Inevitably,
Mooroo found himself embroiled in a controversy that took social media by storm. "After that video and the outrage that followed, I realised people needed basic education," he told Mira. "If I am saying, then they would understand the complete opposite."
When asked whether he apologized for it, Mooroo replied with, "No! I never apologised and I will never apologise for it."The vlogger weighed in on why he believes we are not progressing as a nation. "I think it all comes down to lack of education," he shared. "When the motorway rape incident occurred, I kept wondering what this man must be thinking, what would be going through his mind. It was such a tragedy. And then I figured it must have something to do with poverty and no knowledge at all."
Banning Culture
Mooroo also shared his two cents on how banning content has become a norm. "I am absolutely against it," he said. "Everything is being banned here without thinking of its repercussions. If there's a platform, then whatever narrative is being presented on it, should be for the people to decide." He spoke about how TikTok has given a voice to a class that couldn't convey its stories before. "TikTok has managed to highlight stories of the rural class. No other medium had given them the opportunity to share their narrative before. It is a democratic move, it should never be banned," he concluded.