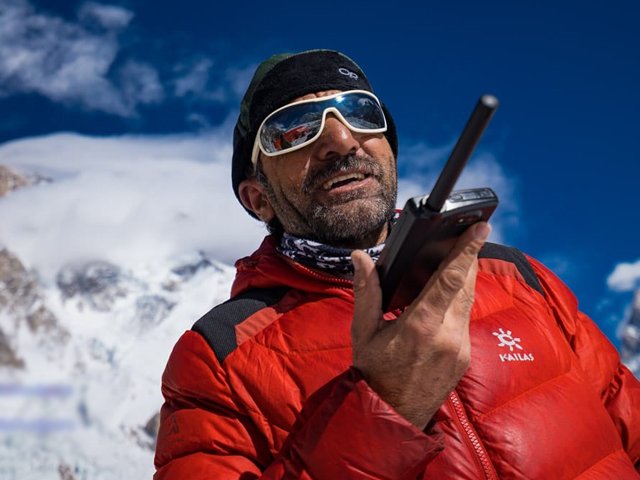 ---
KARACHI:
The search for three missing mountaineers – including Pakistan's iconic climber Muhammad Ali Sadpara – was officially called off on Thursday with families saying the trio should now be considered dead on the world's second highest peak.
The announcement by Sajid Sadpara, son of Ali Sadpara, draws curtain on a dramatic tragedy on K2 that kept Pakistan on the tenterhooks for nearly two weeks. It also drew to a close the perilous search and rescue operation – arguably one of the longest in the history of mountaineering.
Muhammad Ali Sadpara, John Snorri Sigurjónsson of Iceland and Juan Pablo Mohr Prieto of Chile went missing on K2 on Febuary 5 while attempting an unprecedented winter ascent without supplemental oxygen. K2 had never been scaled in winter until only last month when a Nepalese team accomplished the feat.
The trio was last seen near Bottleneck – the most treacherous trek of K2 – by Sajid Sadpara, who was also part of the expedition but had to give up after his oxygen tank malfunctioned. Sajid is confident the trio had scaled K2 and might have met an accident while descending.
"K2 has embosomed my father forever," Sajid told a news conference in Skardu, Gilgit-Baltsitan (G-B), alongside government officials. "Pakistan has lost a brave and celebrated climber, while our family has lost a loving and caring head," he added.
"To all the climbers who appreciate Ali Sadpara's achievements and look up to him, I promise that I will carry on his dreams and mission and will continue to walk in his footsteps," Sajid told the presser.
Ali Sadpara had summited eight of the world's highest peaks and hoisted the national flag there. Not only that, he had also set several world records in the field of mountaineering, including the scaling of Nanga Parbat in 2016.
Also read: Explainer: Who is Muhammad Ali Sadpara?
"He earned unprecedented respect and fame during his lifetime," he said. "The way top international climbers have heaped praise on him is a source of pride not only for me and my family but also for the entire Pakistani nation."
Recalling his earlier media talk, Sajid said he knew that the treacherous part of K2 where his father and his two colleagues had gone missing is "death zone" of the mountain. "I knew the chances of their survival in such a hostile weather and at such a height were next to none and it was not wise to endanger more lives in a futile attempt to rescue them," the bereaved son said.
Notwithstanding, the Pakistani military defied all odds and mounted the operation in an attempt to "make impossible possible". Sajid thanked the civil and military officials – including Prime Minister Imran Khan and army chief General Qamar Javed Bajwa – for the rescue efforts.
Ali Sadpara's son also thanked the Pakistani nation and his father's fans everywhere in the world for their support and prayers for the safety of the missing climbers. "My family is overwhelmed by this outpouring of love and support. This has also boosted the morale of all young mountaineers who want to earn a name for their country," he added.
Sajid said he also owed a huge thank to the media which played a role during this episode and highlighted the achievements of his father. He added that his father had a dream of setting up a modern climbing school in Gilgit-Baltistan where young climbers could train and adopt mountaineering as a source of livelihood.
"My father used to say that those who love mountains could defy all odds. And if these mountains fall in love with you, then they will have you forever," Sajid said as he requested the nation to pray for his father.
Sitting alongside Sajid, the G-B tourism minister said the regional government has recommended civil awards for Sadpara and his son. He also promised a financial package for the family and scholarships for his children. Not only that, the government will also recommend renaming of Skardu Airport as Muhammad Ali Sadpara Airport.
Rescue operation
The search and rescue operation was launched on February 6, hours after the three climbers were officially declared missing. However, it had to be suspended multiple times owing to bad weather conditions.
After a week into the search operation with no sign of the missing climbers, as well as no sign of bad weather relenting, friends and families of the mountaineers went so far as to set up a "virtual base camp" for a thorough search-and-rescue effort.
Pakistani mountaineer Nazir Sabir said it was arguably the longest search and rescue operation in the field of mountaineering. "As far as I could recall, such a long search operation has never been carried out for any missing mountaineer," he told BBC Urdu.
Based on his experience, Sabir said rescue operations succeed only when they are launched on time; communication link with climbers stays intact; and rescuers have accurate information about the location of climbers.
Sabir believes precious time was wasted in this rescue operation and he blames "inaccurate media reports" for it. "We wasted precious time when we got engaged in celebrating 'successful K2 winter summit' on the basis of inaccurate media reports," he told BBC Urdu.
According to him, the outcome might have been different had the rescue operation been launched on time.
K2 is the deadliest of the world's five highest peaks. In winter, winds on can blow at more than 125mph and temperatures can drop to minus 60 degrees Celsius.
At least 77 climbers have so far died while attempting to scale the 8,611 metres K2 – the fact that has given it the nicknames of "Killer Mountain" and "Savage Mountain". In one of the deadliest mountaineering accidents ever, 11 climbers died in a single day trying to scale K2 in 2008.
(With additional input from News Desk)
COMMENTS
Comments are moderated and generally will be posted if they are on-topic and not abusive.
For more information, please see our Comments FAQ