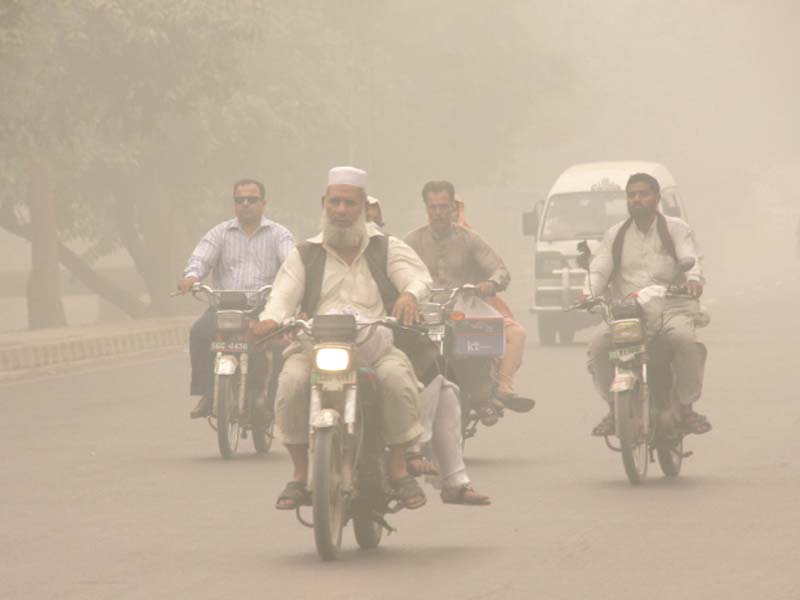 ---
LAHORE:
Punjab's capital is struggling with another season of hazardous air quality. Despite measures by the provincial administration, parts of Lahore remain engulfed in a thick blanket of smog.
According to IQAir, a portal that provides a real-time pollution map, the average daily air quality in parts of Punjab's capital hovered between unhealthy and very unhealthy over the past week.
The quality of air in the city usually worsens between October to February, which is also known as the smog season.
Environmentalists believe the pollution in Lahore can easily be linked to a number of sources. A combination of vehicle and industrial emissions, smoke from brick kilns and dust have resulted in creating what residents of Lahore experience as smog.
"Government's efforts are inadequate," said Aleem Butt, a Lahore-based environmentalist. According to Butt, more than 60% of the city's pollution is generated by vehicles.
"The government has not been able to control that. The Orange Line was run to solve the transport problem, but people do not travel in it," claimed Butt.
This week, the highest readings were recorded around Falcon Enclave Cantt area. With 516 AQI, the pollution level in the area was declared hazardous by several monitoring web portals.
Other hotspots include areas around FC College, parts of Gulberg, Model Town, US Consulate and Bedian Road. Similarly, areas dotted with industrial units appeared in the hazardous zone. Smoke from these units is a major contributor to Lahore's smog.
According to the IQAir portal, Lahore ranked 10 in the World Air Quality Report three years ago. Since then, it has moved up on the list.
Experts believe the quality briefly improved during the recent lock down due to reduced human activity.
"That was just temporary and was not expect to last long," said Aleem Butt. "Reducing industrial and vehicular emissions is critical to improving the air quality in Lahore," he added.
Naseemur Rehman, director at Punjab's Environment Protection Department said climate change has intensified smog and other environmental issues in Pakistan.
"Present smog does not include smoke coming out of brick kilns. This is mostly dust and vehicular emissions that end up complicating matters when added to fog," claimed Rehman.
Butt, who has been closely monitoring the pollution levels in Lahore acknowledged that more than 60% brick kilns had moved to the Zig Zag technology, which is environment friendly. However, he said, the main issue remains unaddressed.
"Factories and vehicles still need our attention. The volume of pollution produced by brick kilns was always less than that produced by factories and cars," he explained.
Meanwhile, the Department of Environmental Protection believes much of the pollution was coming from the use of substandard motor oil and rubber tyres as fuel.
"We have taken action against industrial units that use rubber tyres or fuels that produce toxic fumes," claimed the department's spokesperson. None of these explanations seem to placate the experts in the city.
Read more: Smog level rises despite govt efforts
One irked environmentalist said the government needs to install more meters to measure the pollution. Once they are installed, he said, data should be shared with experts.
Aiming his guns at the provincial administration, Dawar Butt, an analyst at the Center for Research on Energy and Clean Air, said the government has not yet shared what steps have been taken to prevent smog and how that has helped the environment.
He cautioned that the current spell of smog is expected to continue for a week.
Describing the measures taken by the government as a stopgap, Butt said, the province needs a long-term strategy.
The Lahore-based analyst urged the government to impose heavy penalties on industrial units that produce toxic fumes, ban the use of substandard fuels, and provide better public transport facilities.
Penalties
On the other hand, the provincial government claims it has collected Rs. 102.697 million in penalties.
The transport department alone, it claimed, has imposed penalties worth Rs. 27.14 million on vehicles that produce pollution. Similarly, 20,273 industrial units and 2,434 brick kilns have also been fined.
Health concerns
While the government struggles to regulate air pollution, citizens continue to suffer from serious medical conditions.
"The throat-burning smog continues to choke lungs in parts of the city," said one irked resident, who suffers from a respiratory disease.
COMMENTS
Comments are moderated and generally will be posted if they are on-topic and not abusive.
For more information, please see our Comments FAQ