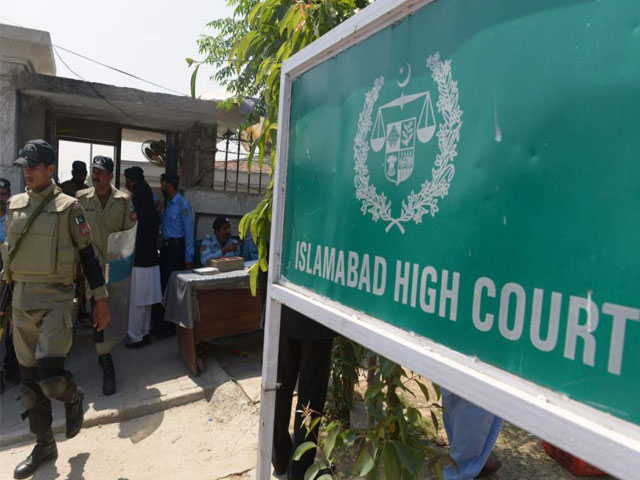 ---
ISLAMABAD:
The Islamabad High Court (IHC) has extended a stay order, suspending a show-cause notice issued by the Securities and Exchange Commission of Pakistan (SECP) to one of its employees, while asking the financial regulator as to why it takes so much interest in the case.
Last year, the SECP had constituted a committee to investigate allegations of sensitive data leak by a number of employees including Additional Director Market Surveillance Arsalan Zafar.
Zafar had later moved the IHC which suspended the show cause issued by the committee. IHC Chief Justice Athar Minallah on Wednesday further extended the stay till March 10.
Earlier, Sardar Taimur Aslam Advocate represented the SECP employee. The SECP lead counsel did not appear in the court due to his engagement in the Supreme Court and his associate requested the court to take up the case after some delay or allow the petitioner's counsel to present his arguments.
Justice Minallah asked the SECP's counsel as to why the authority's chairman did not take as much interest when an SECP employee went missing a few months back
"We have sought an answer to a question from the SECP chairman. Why shouldn't we summon him to the court," the judge noted. "The question is why the SECP is taking so much interest in the case. You are an independent regulator. Such acts don't suit you," the judge noted.
The IHC later adjourned the hearing till March 10.
On September 23, the SECP issued show-cause notices to 10 senior officers including additional and joint directors in connection with an investigation into a data leak.
The show-cause notices had been served to Arsalan Zafar, Joint Director Information Technology (IT) Muhammad Sohail, Deputy Director IT Hammad Ahmed, Assistant Joint Director Companies Registration Sadiq Shah, Assistant Joint Director Companies Registration Adil Ali and Jamal Zaidi.
On September 25, Zafar – the prime suspect – challenged the formation of the investigation committee in the IHC. In his petition, he said the SECP sent him on forced leave on September 9 besides seizing his laptop. He said he already submitted a detailed response to the committee on September 14.
COMMENTS
Comments are moderated and generally will be posted if they are on-topic and not abusive.
For more information, please see our Comments FAQ