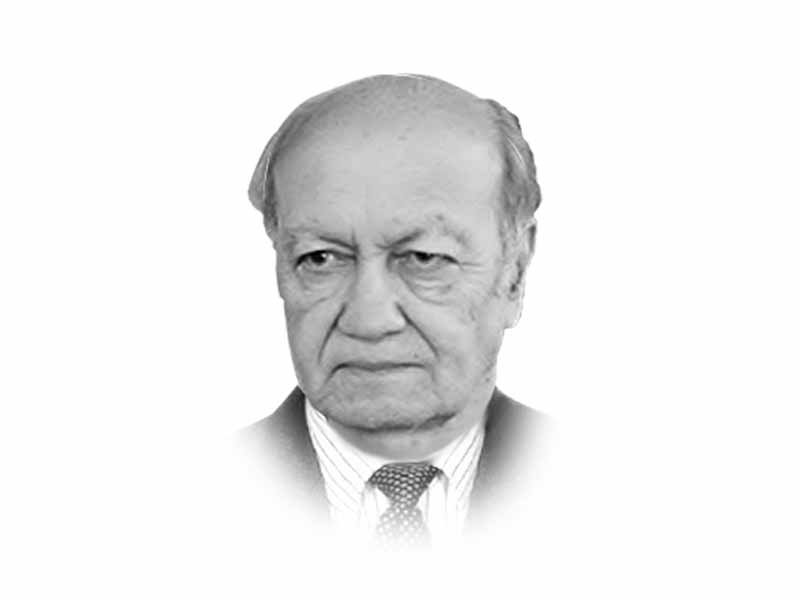 ---
As always, but more so in recent times, geo-economics has acquired great significance due to its vital role in national development and its impact on foreign and security policy. Generally, those national leaders that focused on traditional security and combined it with economic security taking advantage of their country's geographic location were able to give their people a better quality of life and exercise greater level of freedom.
Sustained economic growth merged with economic integration within the country and with its friendly neighbours is the surest path that will uplift Pakistan, contribute toward the well-being of its people, and enhance its defence capabilities. Presently, Pakistan's anaemic economy, dependent on foreign assistance — the IMF, the World Bank and friendly countries — has little space of manoeuvrability in foreign and economic policies and has to operate under a strict financial regime.
In fact, the centrality of Pakistan's relations with China, apart from the strategic dimension and strengthening defence, aims at lifting its economy by placing it on more durable lines. The China–Pakistan Economic Corridor (CPEC) is largely based on this concept and if faithfully implemented along with other major national pursuits should place the country on an upward trajectory. And give strength, sustenance and durability to the China-Pakistan relationship.
This shows how invaluable is Pakistan's geographic location. But more importantly, are we as a nation truly exploiting the centrality of our geography for economic well-being or are we merely content with what our Chinese allies or others are doing for us or for themselves?
Looking back, history reminds us that we exploited our geography more for global powers than for ourselves. The backlash of policies pursued by the United States during the Afghan jihad on Pakistan was far too severe and hardly compensated by the military and economic assistance that we received from them. With the US, apart from seeking normalisation of relations and cooperation in areas of common interest such as working toward peace in Afghanistan, Pakistan would like to expand and give depth to its economic relationship. Our heavy reliance on leveraging the country's geo-strategic location for others has its limits and overplaying this card becomes counterproductive as history reminds us.
At present the civil war in Afghanistan is a major impediment for Pakistan to fully benefit from intra-regional trade with Central Asian countries. Unfortunately, as the situation stands there are remote chances of any likelihood that the security situation would improve in the near term. The Chinese are, however, expecting to maximise the use of CPEC by using the Gwadar port for shipment of goods and services from western China.
The most striking feature of Washington's policy that affects Pakistan is building India's economic, military and strategic potential against China that could be directed against us. The US is injecting investments and boosting India's economic growth by supporting its industrial and agricultural production, easing transfer of defense and space technology and providing modern weaponry.
Our political leadership's focus on economic and financial issues is mostly peripheral. It should engage more critically and give economy the importance it deserves if Pakistan is to overcome its perennial dependence. Major thrust of national policy debates should be preferably economy related subjects. In parliament, important economic matters fall prey to political squabbles and only a few parliamentarians have the interest and understanding to engage in these subjects.
While most of the world moves at a fast pace, we take decades to decide the fate of our sick enterprises whether it be the Pakistan Steel Mills (PSM) or other state entities. The PSM has remained a victim of state neglect and political gamesmanship costing billions of rupees to the exchequer. And those responsible for placing hurdles in the sale of the Steel Mills with ulterior motives have gone scot free. Hopefully, the great burden of these state industries would end soon with their privatisation.
We have to upgrade our education system and devote greater resources to the health sector for strengthening the economy and increasing national productivity. These measures would also contribute in coping with growing demands of the global economy. Successive governments have failed to give a high priority to these two vital sectors resulting in retarding economic growth and fall in exports. There were hopes attached to the PTI government that they would focus on these areas as PM Imran Khan had repeatedly emphasised their importance before coming to power. Moreover, by adopting a Single National Curriculum (SNC) which appears to be a favourite plan of the government we may be regressing and playing with the destiny of the country rather than moving forward.
The impact of the pandemic on the economy has been severe at the global and national level. This required greater professional expertise in dealing with which we fortunately had to an extent in the person of the Finance Minister and State Bank Governor and a few others. What we need is more officials to be well-versed in financial matters. Inefficient management of national resources and political pressures over extended periods has resulted in the continuous rise of national debt. As of August 2020, the total debt and liabilities of Pakistan was estimated to be Rs44.2 trillion ($270 billion) which is 106.8% of GDP, much higher than the safe limit of 77% which is the internationally accepted criteria.
The rising Chinese economic power is being thwarted by the US by trying to place several hurdles in its way. But despite that China's economy is moving ahead and was the only major power whose GDP was growing at an appreciable pace. According to experts, government-led investment and demand for Chinese goods globally were the major factors that helped China to boost its exports and revive its economy at a faster rate. This augurs well for Pakistan as it is a major beneficiary of Chinese loans and its aided projects.
A weak economy limits options in foreign and economic policies. Global politics centers largely on the economy and influences relations between countries. It is in Pakistan's vital interest to make the economy the centerpiece of its foreign and national policy.
Published in The Express Tribune, February 17th, 2021.
Like Opinion & Editorial on Facebook, follow @ETOpEd on Twitter to receive all updates on all our daily pieces.