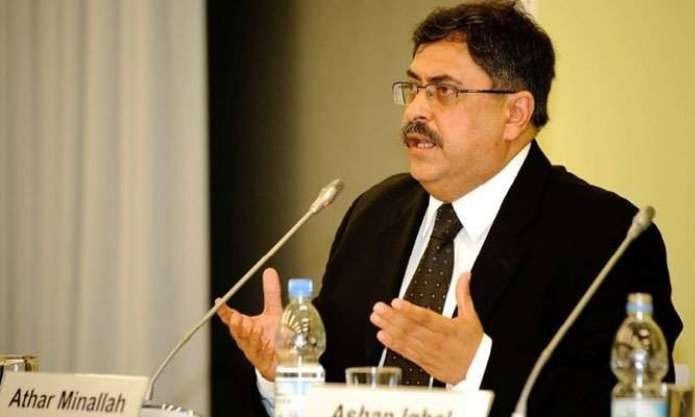 ---
ISLAMABAD:
Islamabad High Court (IHC) Chief Justice Athar Minallah, expressing displeasure over last week's ransacking of the high court on Monday, called for lawyers involved in the attack to be given exemplary punishment.
The judge made these remarks while hearing the case pertaining to the lawyers' February 8 rampage. Hundreds of lawyers ransacked the high court's premises, including the IHC CJ's chambers, during a protest over demolition of illegally built lawyers' chambers.
During the proceeding, secretary of the IHC's bar association, Sohail Akbar Chaudhry, asked the court to form a judicial commission to investigate the case.
However, Justice Minallah observed that, "you all know well who did all this; the case doesn't need a commission."
"The bar should identify those who were involved in the attack so that no one else is harassed," he added.
Also read: Police to form JIT to probe lawyers' attack on IHC
The judge, who said he had also received a call from the Chief Justice of Pakistan on the matter, further said that all those involved in the attack were lawyers of the bar, adding "I know half of them".
He observed that those who kept the judges hostage for five hours have committed a grave crime. "It is a serious incident and those involved should be punished," he added.
Justice Minallah maintained that the integrity of the bar was at stake because of the wrongdoing of a few individuals.
He further said, "The Joint Investigation Team (JIT) has reported that the lawyers and the bar are not cooperating in resolving the case."
The judge then asked what the state would have done had the protesters belonged to a political party.
"When I was made hostage, I was ready for the worst," Justice Minallah recalled and said, "I saw the bar's president and the secretary helpless during the incident."
Denying the request to form a JIT, Justice Minallah asked Chaudhry, IHC bar association's secretary, to identify the lawyers involved in the attack.
Assault on media workers
The judge expressed concerns over the fact that the lawyers also assaulted media workers and got their footage deleted.
He said such a behaviour won't be tolerated at any cost. "The attackers had planned to go on a rampage and they got the videos of the incident deleted," he noted.
On the occasion, Sher Afzal Advocate told the judge that "we are all regretful at what happened to the court."
The judge said, "There will be no compromise or ifs and buts, and the law will take its course."
"It wasn't just me as the other eight judges were also taken hostage. It is a matter of the institution," he remarked.