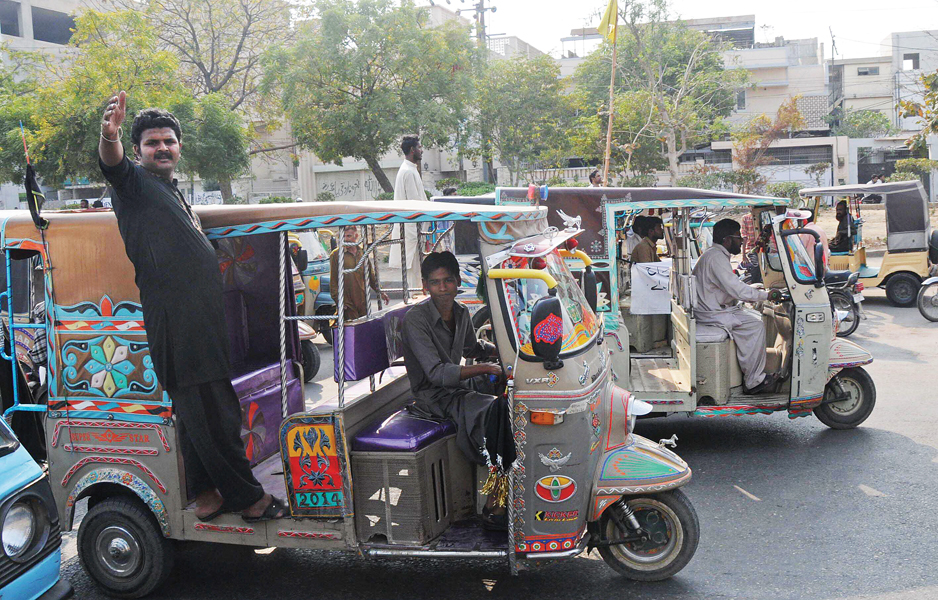 ---
MULTAN:
Unauthorised rickshaw stands have become a cause of traffic problems in the city. Rickshaws are seen parked haphazardly on every road in the city due to the negligence of the traffic police and other authorities concerned.
Long queues of rickshaws can be spotted at Vehari Chowk, Chungi No 9, Kutchehry Chowk, Dera Adda Chowk, Chungi No 6, Syedanwala Bypass, metro bus stations and various other places across the city, ignoring all traffic laws.
The unauthorised auto-rickshaw stands are emerging as one of the major causes of traffic problems in the city, which could foil all efforts of the district administration for ensuring uninterrupted traffic flow.
he district administration is striving hard to resolve traffic related issues as most of the buses and wagon stands have been shifted outside the city area during a special drive.
However, rickshaws are still seen parked in zigzag at every road of the city.
Traffic policemen deployed at roads also appear helpless, saying that drivers do not pay attention to their warnings. "Our primary duty is to ensure smooth flow of traffic. We are doing our duty and keep requesting them not to park their rickshaws for a long time," maintained a traffic policeman.
"Their issues are somewhat genuine. They lack proper space for parking at bus stands," he added.
On the other hand, vendors also clog up roads, which become a hindrance for vehicular traffic. Further, it is very difficult to cross roads near Chowk Kumharanwala Flyover and Bosan Road due to the fact that all service roads have been occupied by rickshaws that are parked improperly.
Underage and untrained rickshaw drivers are also a challenge for traffic police, while the loud music played in the vehicles not only disturbs families but also violates the traffic rules and sound systems law.
A citizen, Muhammad Yousaf said, "The rickshaw drivers are unaware of traffic rules as we notice dozens of traffic rule violations by rickshaw drivers on a daily basis.
Published in The Express Tribune, February 15th, 2021.