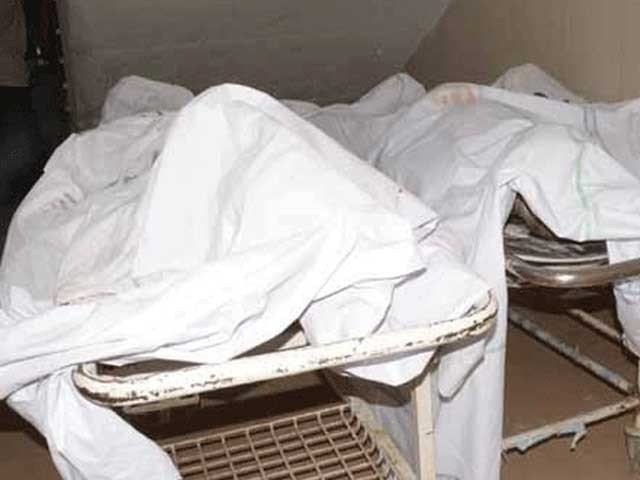 ---
ISLAMABAD/RAWALPINDI:
Armed men shot a man dead and left two people, including a passerby woman, injured after a minor altercation in Rawalpindi, in Shah Khalid Colony, the area of the airport police station, said a police spokesperson on Friday.
Taking prompt action, the police arrested both the suspects, he maintained.
According to details, suspects Jibran and Hasan murdered Jumma Khan and left Zeeshan and a lady injured while the suspects fled the scene.
The police shortly reached the site and launched a probe into the incident as the injured and the deceased were shifted to Benazir Bhutto General Hospital.
A case was registered in the presence of the injured, Zeeshan.
Rawalpindi City Police Officer Ahsan Younas, taking notice of the incident, tasked the assistant superintendent of police (ASP) Civil Lines to immediately arrest the suspects.
Gulzar Quaid, chowki in charge, and his team led by ASP Civil Lines arrested the suspects with the help of the intelligence department. The ASP vowed to meet all legal requirements for ensuring harsh punishment to the suspects.
Meanwhile, a woman and a man were separately abducted within the jurisdictions of Sabzi Mandi and Margalla police stations.
Ansar Mahmood told the Sabzi Mandi police that his 26-year-old brother, Irfan, was abducted by unknown individuals while Saima informed the Margalla police that Muhammad Owais and three others had abducted her 20-year-old daughter.
The police registered separate cases separately as further investigation is underway. Separately, two people were killed in traffic accidents in the federal capital, an official shared.
Mohammad Yousuf told Bhara Kahu police that Omar Iqbal and his father Nazram Khan were walking along the road when an unidentified motorcyclist accidentally hit them as a result of which they died.
Similarly, Hasnain Nawaz told Sabzi Mandi police that his brother Hamza Nawaz was riding a motorcycle when an unidentified truck driver hit him while driving recklessly, killing him. Police registered separate cases but failed to arrest the accused as of yet.
Furthermore, a young man was killed and his body dumped in Qutbal Town. According to details, a young man shot another youth and dumped his body while the victim, who is said to be between the ages of 20 to 25 years old, has not been identified as yet. Police have taken the body into custody for medico-legal formalities and kept it in the morgue.
If the young man is not identified within a few days, he will be buried in Sector H-11 cemetery, the official informed.
COMMENTS
Comments are moderated and generally will be posted if they are on-topic and not abusive.
For more information, please see our Comments FAQ