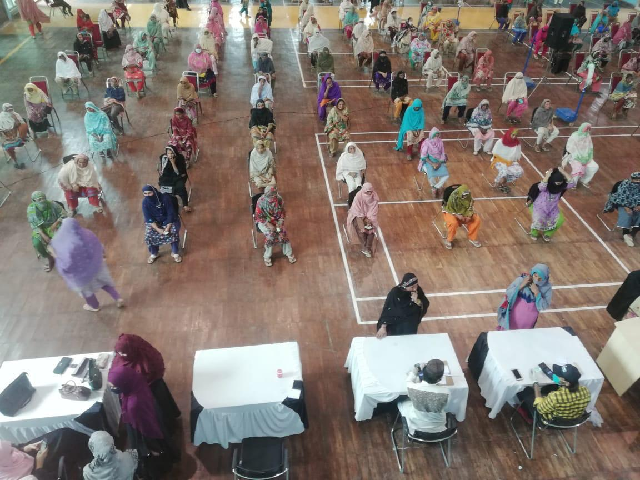 ---
ISLAMABAD:
The federal government will start making payments to the newly-registered beneficiaries of Ehsaas Kafaalat programme from Wednesday, following the completion of the 68 per cent poverty census survey across the country.
Prime Minister Imran Khan will visit different areas of Islamabad to review the arrangements for the registration of the programme and interact with the beneficiaries, according to a press release issued on Tuesday.
A total of seven million beneficiaries have been included in the programme and they will receive Rs12,000 for the period starting from January to June 2021. All eligible persons registered through the new poverty census survey will be given Rs2,000 per month on a permanent basis to assist them in basic needs.
Every deserving person will receive an SMS stating that he has been included in the Ehsaas programme and can receive his grant. The beneficiaries will also receive an official letter in this regard. The women beneficiaries of the programme will receive Rs6,000 per quarter.
Across Khyber-Pakhtunkhwa, Gilgit-Baltistan and Azad Jammu and Kashmir, Kafaalat beneficiaries will be able to withdraw payment through biometric ATMs, designated retail shops and campsites of Bank Alfalah; and through Habib Bank in Punjab, Sindh, Balochistan and Islamabad.
All new beneficiaries of the financial support programme will be able to withdraw money from biometric ATMs and bank branches after verification of SMS messages sent to them from 8171.
The payment messages will be sent to eligible households on a phase-wise basis.
The women beneficiaries who do not have a Computerised National Identity Card will also receive messages from 8171 with the request to apply for CNIC.
Special Assistant to the Prime Minister on Social Protection and Poverty Alleviation Dr Sania Nishtar said those who want to get financial assistance from the programme should take part in the Ehsaas survey.
After the completion of the survey registration desks will be set up in each tehsil for the deserving families who haven't registered themselves in the survey.
(With input from APP)
COMMENTS
Comments are moderated and generally will be posted if they are on-topic and not abusive.
For more information, please see our Comments FAQ