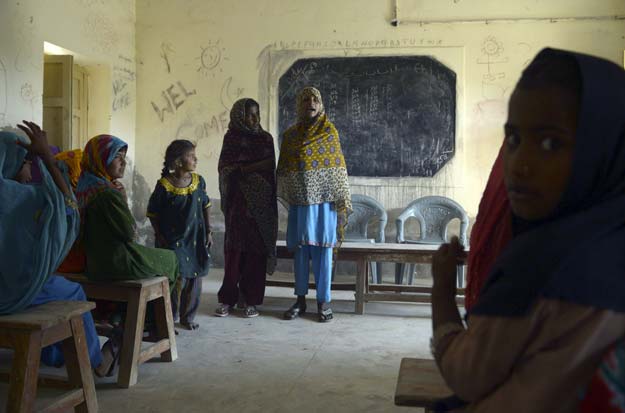 ---
The Sindh High Court sought on Monday a detailed report on functional and non-functional public schools in the province along with the number of teachers employed by the provincial education department and their salaries.
A two-member bench comprising Justice Muhammad Ali Mazhar and Justice Amjad Ali Sahito was hearing a plea seeking educational reforms and restoration of government schools.
The Sindh education secretary and other officials appeared before the court.
The bench expressed dissatisfaction over the report submitted by the education secretary.
"Why aren't poor children admitted in private schools," remarked Justice Mazhar, adding that hundreds of thousands of children are out of schools.
Meanwhile, Justice Sahito observed that 630 schools in Larkana were closed but teachers were collecting their salaries.
The bench noted that 10 per cent children had to be admitted in private schools. Make a commitment in the court as to how many children will be admitted to schools this year, remarked the bench.
Seeking a detailed report on the state of affairs of public schools in Sindh, the court adjourned the hearing till March 10.
5G technology
Separately, the bench issued notices to the Sindh advocate-general and the deputy attorney-general of Pakistan over a plea seeking restriction on 5G technology.
The petitioner's counsel contended that 5G technology is hazardous for human health.
Following which, Justice Mazhar inquired that why is it hazardous.
At this, the counsel maintained evidence pertaining to this has been found during experiments regarding the technology.
The bench asked the petitioner's counsel about what measures could be taken to avoid the hazards of 5G technology.
The counsel replied that the technology is hazardous for the environment and the atmosphere. Maintaining that 4G technology is hazardous as well but 5G is more hazardous, the counsel moved the court to ban the latter.
The bench issued notices and sought replies from the federal and provincial law officials.
Published in The Express Tribune, February 9th, 2021.
COMMENTS
Comments are moderated and generally will be posted if they are on-topic and not abusive.
For more information, please see our Comments FAQ