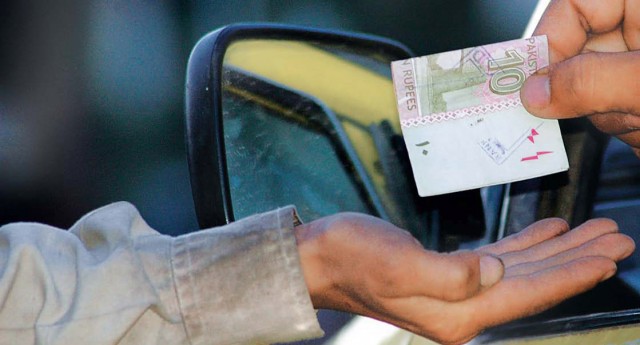 ---
MIANWALI:
The district, including Mianwali city, is witnessing an unusual increase in the number of beggars.
As per local people, Mianwali's public spaces including squares, markets and streets of the city are swarmed by an unusual number of people begging for charity, food, shelter and other items.
A large number of the beggars can be seen in the commercial areas of the city, who frequently swamp the visitors.
The beggars use different techniques to gain the sympathy of the people into loosening a few notes from their purses.
Several citizens complained that due to lack of action by the local authorities, the prevalence of beggars in the city had made life difficult for them, especially while shopping in markets.
The beggars include young girls and boys who are seen begging in various places in the city and if one did not pay them, they resort to hurling abuses.
The girls do not shy away from begging as well as demanding favours from the people.
The young beggars are also suspected of stealing valuables from shops and homes.
Members of the local business community are also facing problems because of the nuisance for themselves and their customers.
There were so many beggars in the city that one of them came after another for charity during the whole day, a trader complained.
Most of the beggars, especially the young ones, did not hesitate in committing thefts and other immoral acts when they did not get the money they expected, he added.
A local business figure said the police should set up camps at Wattakhel Chowk, Railway Road, Civil Lines Road, District Headquarters Hospital, Main Bazaar and General Bus Stand to curb begging.
He said legal action should be taken against the beggars.
In November last year, Punjab Child Protection and Welfare Bureau intensified its operation to rescue children forced into begging and also streamlined the procedure for returning children taken into custody.
CPWB teams are active across all cities in the province to save children from a life of begging.
Since lockdowns enforced to contain the novel coronavirus were lifted, the bureau has rescued around 800 children involved in begging in various cities of the province.
Published in The Express Tribune, February 9th, 2021.
COMMENTS
Comments are moderated and generally will be posted if they are on-topic and not abusive.
For more information, please see our Comments FAQ