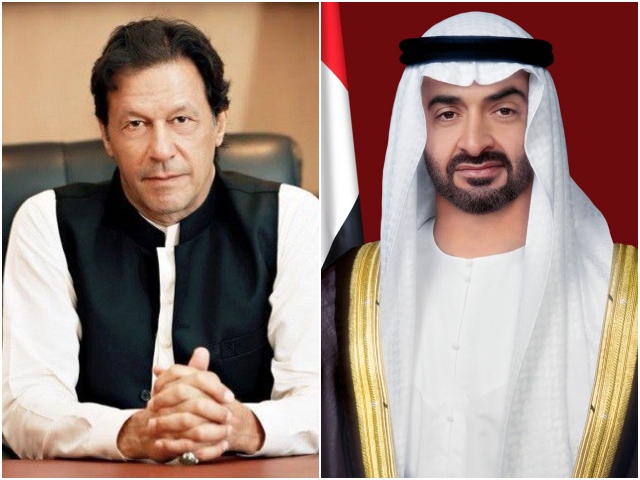 ---
ISLAMABAD:
Prime Minister Imran Khan on Saturday held a telephonic conversation with Sheikh Mohamed bin Zayed Al Nahyan, Crown Prince of Abu Dhabi and Deputy Supreme Commander of the UAE Armed Forces on Saturday in a development seen as significant.
Pakistan's relationship with Saudi Arabia and United Arab Emirates has seen some challenges in recent months due to certain regional developments.
But the high-level contact between the two countries suggested the relationship is poised to be back on track.
The telephonic conversation took place against the backdrop of reports that Saudi Arabia and UAE rolled over $2 billion loan.
The loan matured in January and Pakistan was supposed to repay the money to both countries. However, both countries extended the facility suggesting a thaw in ties.
Pakistan previously returned $2 billion to Saudi Arabia despite tough economic conditions and depleting foreign exchange reserves.
Also read: Saudi Arabia, UAE retain $2b financial support
A statement issued by the Prime Minister Office said the two leaders reaffirmed the existing close fraternal relations between Pakistan and the UAE and reiterated the resolve to further solidify and strengthen the multifaceted bilateral relationship.
They also exchanged views on Covid-19 pandemic and regional and international issues of mutual interest.
The prime minister and the crown prince agreed to continue working closely to enhance bilateral ties as well as cooperation in multilateral organisations, the statement added.
Diplomatic sources believe that Biden administration's shift in its Middle East policy will likely bring Pakistan close to Saudi Arabia and its other allies.
President Joe Biden this week announced to end the US support for a Yemen war. It was Yemen conflict that first led to a hiccup in Pakistan's ties with Arab countries. Pakistan decided to stay neutral when in 2015 Saudi Arabia requested for troops.
With the Biden administration now seeks a diplomatic solution to the Yemen war, observers think this will make Pakistan's challenges less complicated when it comes to its ties with Saudi Arabia and its allies.
COMMENTS
Comments are moderated and generally will be posted if they are on-topic and not abusive.
For more information, please see our Comments FAQ