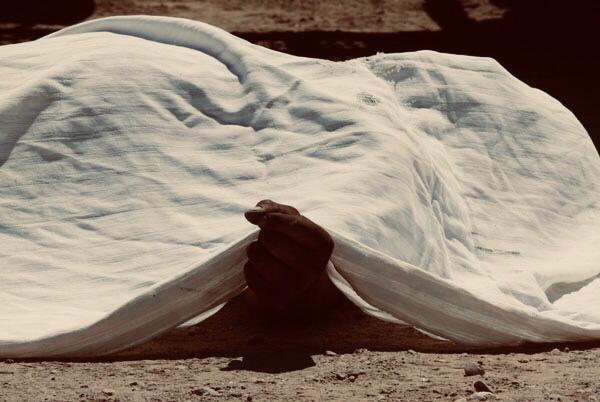 ---
KURIANWALA:
A man stabbed his wife to death using a cleaver in the name of honour on Wednesday.
After the physical assault, the suspect fled from the crime scene.
Police took the body into custody and handed it over to her heirs after postmortem and started searching for the alleged murderer.
The victim was the mother of four children.
According to the police report, the complainant Sadi Ahmed, a resident of Bangla Gogira, Okara, stated that his 36-year-old sister, Ishrat Bibi, was married to Falak Sher, a resident of Chak No 459GB, 16 years ago.
Suspect Falak had certain suspicions on his wife's character. After beating Ishrat, the suspect called his in-laws to take his wife away.
Meanwhile, the victim's brother and cousin went to pick up the victim.
Man accused by wife of raping daughter
Ishrat went inside the room to change her clothes when Falak hit her with the weapon three times and seriously injured her.
The victim's family took her to a hospital but she died on the way. The suspect fled the crime scene while allegedly passing remarks on the victim's character.
Landianwala police handed over the body of the deceased to her heirs after taking necessary action and registered a case under Sections 302-311 / 34 PPC. Police also started searching for the alleged murderer.
Incidents of murder in the name of honour were not uncommon in Punjab.
On December 13 last year, a man allegedly shot and killed his sister in the name of honour in Sammundri.
The accused Shafqat, the son of Khushi Mohammad, shot his 30-year-old sister Shazia Bibi in her head and face with a 30-bore pistol over a domestic dispute in 223GB suburb village near Tarkhani.
On June 9 last year, a man axed to death his sister for contracting a love marriage in Okara. The deceased woman was living in the provincial capital and she had come to visit her parents.
Reportedly, Saima Bibi, a resident of Baman Zirin village of Ravi got married to a young man named Azam on which her brother Shafqat got upset.
He was unhappy with his sister's marriage. The deceased had been living in Lahore with her husband Azam. During this time she gave birth to two children.
On the day of the incident, Saima Bibi had come to the village from Lahore to visit her parents where her brother Shafqat took the opportunity to kill her with an axe and then fled.
Published in The Express Tribune, February 4th, 2021.
COMMENTS
Comments are moderated and generally will be posted if they are on-topic and not abusive.
For more information, please see our Comments FAQ