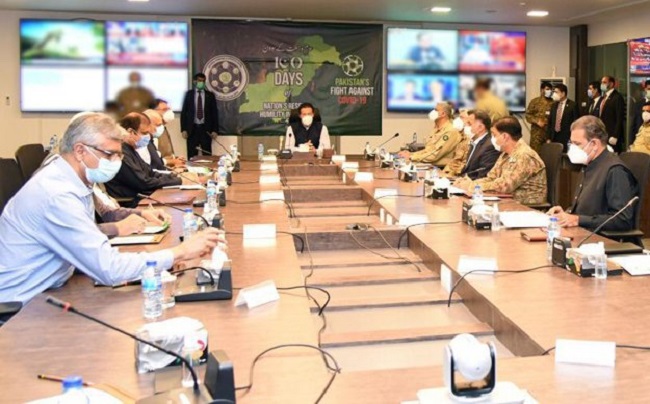 ---
NCOC apprises journalists of vaccine roll-out plan starting tomorrow
NCOC chief, Asad Umar, thanks media for all-out support in communicnating health guidelines to people during pandemic
---
ISLAMABAD:
The National Command and Operation Centre (NCOC) invited senior journalists on Tuesday for a session held to provide an overview regarding efforts undertaken at various stages to curb the pandemic.
The country's central body dealing with the coronavirus pandemic apprised the journalists of particularly the non-pharmaceutical interventions (NPIs) taken in line with the best practices and health guidelines in collaboration with all the stakeholders.
The session was chaired by NCOC chief Federal Minister for Planning Asad Umar and Lt General Hamood Uz Zaman.
According to the NCOC, the session's participants were given a comprehensive brief by NCOC Director General Major General Asif Mahmood Goraya about the current Covid-19 situation in the country, as well as the NPIs in place, and Pakistan's vaccine strategy and roll-out plan that starts tomorrow.
Also read: First batch of Covid-19 vaccines arrives in Pakistan
During the meeting, Umar appreciated the role media played in crisis communication and community engagement during the pandemic.
He thanked the media for its all-out support in communicating health guidelines and measures to the people, and facilitating the government in bringing about the desired behavioural change in the masses.
In a statement released earlier today, the NCOC informed that the country recorded the lowest number of Covid-19 cases in a day since November.
Around 1,220 cases were reported in the past 24 hours taking the total number of cases so far reported in the country to 547,648.
The highest death toll recorded over the last 24-hour period was recorded in Punjab followed by Sindh.
As many as 63 more people died of Covid-19 over the last 24 hours, taking the total tally to 11, 746.
A total of 502,537 people have so far recovered from the disease.