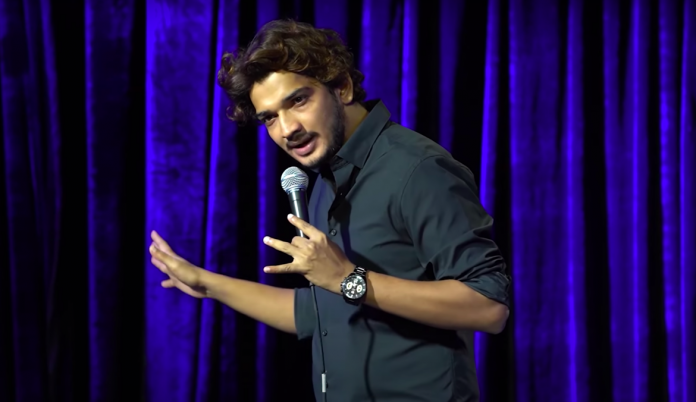 ---
It has been over 25 days since Indian stand-up comic Munawar Faruqui has been in police custody for allegedly "insulting Hindu gods and goddesses" during one of his shows, reported Hindustan Times. He has not been released on bail, the Madhya Pradesh High Court ruled recently, saying there is no evidence so far that he had not committed the crime.
The court rejected the comedian's argument that he had made no offensive comment in his show on the day he was arrested, saying investigations were on and more incriminating evidence could show up. Faruqui, 29, was arrested along with five other comedians in Indore on January 2, on a complaint by Eklvaya Singh Gaud, the son of a BJP MLA. All six were accused of making "filthy and indecent jokes" about Hindu gods and goddesses, as well as Indian Home Minister Amit Shah.
"The evidence/material collected so far suggests that in an organised public show under the garb of standup comedy at a public place on commercial lines, prima facie, scurrilous, disparaging utterances, outraging religious feelings of a class of citizens of India with deliberate intendment were made by the applicant," said the court order.
A joke he didn't make
Faruqui's lawyer had argued that he had been invited by the organisers of the show and was present but had not made any such jokes that day, reported BBC. Eyewitnesses told reporters that the comedian had not cracked any jokes relating to religion when he was picked up. In fact, he hadn't even started his routine when Mr Gaud stopped the show.
The police later admitted they had no evidence that the comic had done so, and that the complainant had "overheard some jokes" that the comic was preparing for the show. "He was arrested for jokes he didn't crack. Faruqui hadn't even begun the show when he was interrupted. A presumption of and anticipation of a so-called criminal act cannot be an offense. The police registered a case and arrested him without verifying the facts," Anshumaan Shrivastava, the comic's lawyer said.
But the court has rejected this, saying the possibility of more "incriminating material" could not be ruled out as investigations were still on. It also referred to a similar case filed against the comic and his social media posts in Uttar Pradesh. "In the light of the statements of the complainant and the witnesses referred above, the seized articles, video footage of the show and the seizure memos detailed above, at this stage, it is difficult to countenance to the submissions of the learned counsel for the applicant as complacency of the applicant cannot be ruled out, besides vulnerability of his acts in public domain," said Justice Rohit Arya.
Have something to add to the story? Share it in the comments below.