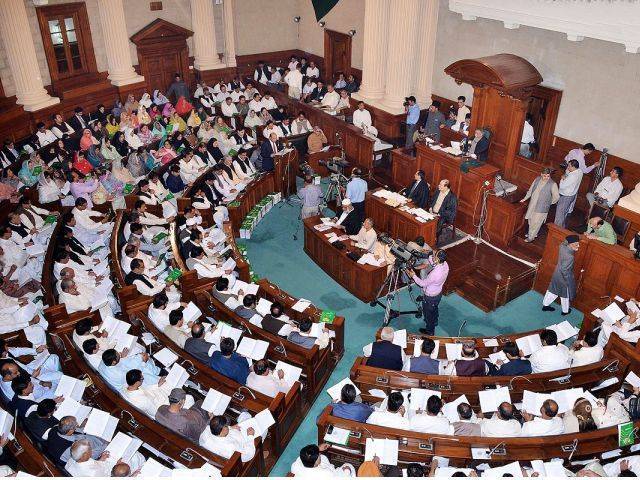 ---
LAHORE:
Pakistan Peoples Party's (PPP) lawmaker Syed Usman Mehmood expressed concern on Tuesday over delay on part of government departments in submitting replies to the queries put forth by both treasury and opposition members of Punjab Assembly.
He demanded a ruling for early submission of replies. PTI's MPA Ahmed Khan Bhachar, who is also parliamentary secretary of local government and answered the queries of the lawmakers, seconded the stance of the PPP legislator.
Panel of Chairmen member Mian Muhammad Shafi directed the departments concerned to submit replies within the period prescribed in Rule 54 of "Rules of Procedure of the Provincial Assembly of the Punjab 1997".
During the question-hour session, lawmakers from both treasury and opposition benches questioned the absence of the local government secretary.
Provincial Law Minister Basharat Raja assured the house of action against the official concerned.
The opposition and a treasury lawmaker also questioned the proceedings of the Punjab Assembly being run without adopting the due procedure of the sequence of names nominated as panel of chairpersons to run the house in the absence of the PA speaker.
First, panel of chairpersons' member Mian Shafi chaired the house and later Pakistan Muslim League's MPA Muhammad Abdullah Warraich chaired the proceedings while Shafi was still present in the house.
PTI's MPA Saeed Akbar Khan Nawani pointed out that in the absence of the speaker the panel of chairpersons runs the house proceedings in order of being next in line in case of absence but in this case, MPA Shafi was present in the house and the proceedings were being run in violation of the rules. On this, Mian Shafi left the house and Warraich continued the proceedings. But this time Law Minister Basharat Raja grilled Warraich over calling his business. Raja said, "You cannot address the business of panel of the chairmen."
Published in The Express Tribune, January 27th, 2021.
COMMENTS
Comments are moderated and generally will be posted if they are on-topic and not abusive.
For more information, please see our Comments FAQ