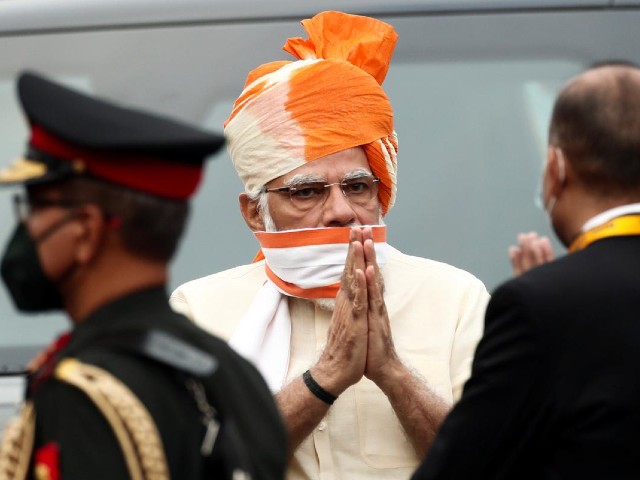 ---
KARACHI:
On the day India celebrates the anniversary of its Constitution, the possibility of the country transforming into a Hindu Rashtra (state) appears stronger than its democratic and secular credentials.
"India is making meaningless attempts to drape an authoritarian regime in the trappings of democracy," said Dr. Talat Wizarat, a noted scholar and former chairperson of the Department of International Relations at the University of Karachi.
Presenting a bleak assessment of the state of India's parliamentary democracy under Narendra Modi, the Hindu nationalist prime minister, Dr. Wizarat said: "India has never been democratic. It has kept the facade of democracy, but as time passed and as the demographics changed it has transformed into a majority Hindu state – where nothing but their own views matter."
In an article titled 'India's demising democracy' published in the Economist three months ago, the London-based magazine cautioned it readers that India is headed to a future that is less, not more free. Based on its current trajectory, Dr. Wizarat believes that moment has arrived for India.
"There was always a segment in the Indian society that was hardcore and intolerant, not only towards the minorities, but also Dalits and other lower caste Hindus. That intolerance has normalized under Modi," said the Karachi-based expert, who closely follows the situation on the other side of the border.
While India celebrates its Constitution, which guarantees a wide range of rights to citizens, the implementation remains limited to those who identify with the Hindutva brand of politics being sold by Prime Minister Modi's hardline Bharatiya Janata Party (BJP). "There is no freedom for minorities or Hindus with divergent views and that is alarming," said Dr. Wizarat.
Biased judiciary
No stranger to controversy, Modi's government recently damaged the credibility of India's superior judiciary by nominating the former chief justice of the Supreme Court to a seat in the country's parliament.
Many in India believe Justice Ranjan Gogoi was rewarded for delivering a pro-BJP verdict in the Babri Mosque case. Moreover, the judge aggressively pushed for preparation of a register of citizens in his home state of Assam – particularly aimed at depriving Muslims of their citizenship.
"Gogoi's term will be remembered for the rise of the 'Executive Court', wrote Gautam Bhatia, a legal analyst, in a prominent journal shortly after the judge's retirement.
Referring to the increasing disregard for the Constitution in India, Dr. Wizarat said: "The political ideology known as Hindutva, which has swept India, is in the process of abandoning its Constitution. Once that is done, they will re-write it to achieve their objectives, which primarily circle around creating a Hindu Rashtra for Hindus only."
Criticism of Modi's disregard for India's Constitution is becoming loud and clear. Responding to President Ram Nath Kovind's Republic Day message that refers to India as 'the world's largest and most vibrant democracy', Tunku Varadarajan, a research fellow in Journalism at the Hoover Institution at Stanford University quipped: "As they say, size isn't everything. As for the 'vibrant' part: The only thing vibrant about India's democracy right now is its rollicking erosion."
Violations in Kashmir
Shortly after revoking occupied Kashmir's quasi-independence, the Indian leader imposed a strict security lockdown and communications blackout in the territory. More than seven million people were deprived of basic connectivity to keep the lid on India's atrocities in Kashmir.
But Modi's blockade of Kashmir earned the ire of several international rights organizations including Amnesty International. The London-based organization that focuses on human rights was forced to shut operations in India for criticizing the government and exposing the ongoing violations of basic rights in the Himalayan territory that India occupies.
In a post shortly after halting its operations in India, the organization said: "This is the latest in the incessant witch-hunt of human rights organizations by the Government of India."
Human rights
Referring to a recent Index on Human Freedom, Dr. Wizarat said, India has slipped significantly in international rankings of civil, economic and personal freedom. The ongoing farming revolt in India, she said, indicates that there is a growing backlash against Modi's high-handedness.
"The last time the Sikh community was targeted, a prime minister, who exhibited autocratic tendencies, was assassinated. I wouldn't be surprised if the current protest leads to more fragmentation in India," said Dr. Wizarat, recalling the 1984 operation against the Sikh community. Five months later prime minister Indira Gandhi was assassinated.
Her grandson and the former president of the Indian National Congress, Rahul Gandhi, also expressed concerns about the state of India's democracy under Modi. "India is now an imaginary democracy," said Gandhi, in a terse post on Twitter a month ago.
COMMENTS
Comments are moderated and generally will be posted if they are on-topic and not abusive.
For more information, please see our Comments FAQ