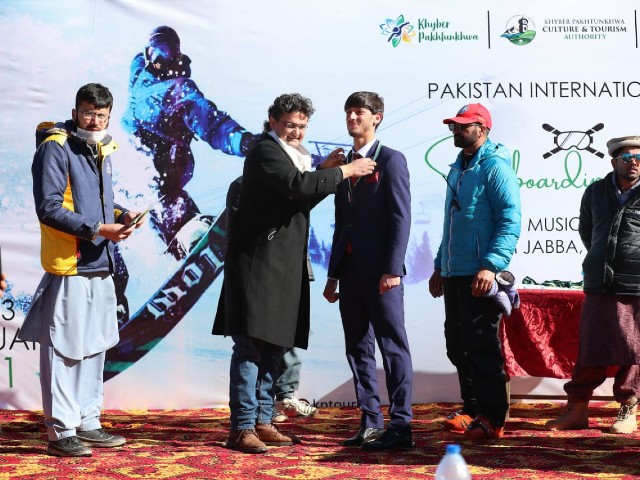 ---
SWAT:
Pakistani players emerged victorious in Pakistan International Snowboarding Championship and Festival at the Malam Jabba ski resort in the scenic Swat valley.
Razaullah won gold while Ahmed got bronze medal in the parallel giant slalom competition during the event organised by Khyber-Pakhtunkhwa (K-P) Tourism Department.
Pakistan's Fatima Nadeem won the first position in the women's giant slalom competition, while Sara Nadeem and Ayesha Akmal won second and third positions respectively. Eight women, including three from Afghanistan, took part in the competition.
Taking to Twitter, PTI leader Senator Faisal Javed Khan said: "Glad to see how our country is witnessing unprecedented tourism boost under PM ImranKhan".
Similarly, Victor Roger came first, Julian Harry came second while Harry got the third position in the men's international snowboarding. All three belonged to Belgium.
In the men's parallel giant slalom competitions, Razaullah from Pakistan won gold, Ahmed Saroush from Afghanistan got silver and Wakil Ahmed from Pakistan won the bronze medal.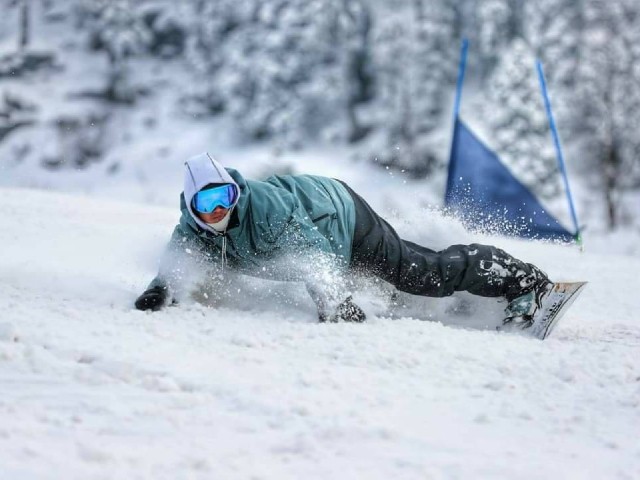 In the women's parallel giant slalom event, Sara Nadeem won gold, Fatima Nadeem won silver and Ayesha Akmal won the silver medal.
In addition to eight women and men athletes from Pakistan, the competition was attended by 44 athletes from different countries including Belgium and Afghanistan.
The participants described the event as the best initiative of the K-P government. Foreign tourists termed Pakistan as a beautiful and safe place for international events.
"Pakistan is a safe and people-friendly country with beautiful places," they said.
COMMENTS
Comments are moderated and generally will be posted if they are on-topic and not abusive.
For more information, please see our Comments FAQ