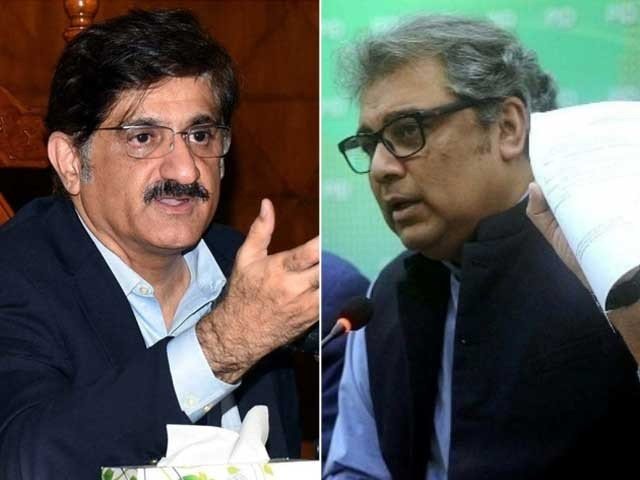 ---
KARACHI:
Chief Minister Sindh Murad Ali Shah has complained to Prime Minister Imran Khan regarding Federal Minister for Maritime Affairs Ali Zaidi's "hostile and belligerent" behaviour during a meeting held to discuss the Karachi Transformation Package on January 16, 2021.
The information of the incident surfaced on Saturday after the letter written by the chief minister came to the forefront.
"That on 16.01.2021, another meeting of the Committee took place at the Chief Minister House, Karachi. However, towards the end of the meeting, Mr Zaidi acted in a hostile and belligerent manner in the presence of the Committee towards the undersigned [CM Murad]...," said the letter.
Read More: Dissecting Karachi revamp package
The letter further stated that "Mr Zaidi's unruly behaviour, which under no stretch of imagination can be deemed as one expected from a Federal Minister, was ignored".
Prime Minister Imran Khan in September last year announced a development package of Rs1.1 trillion for Karachi under its transformation plan in the wake last year's unprecedented heavy rains – which left the infrastructure of the metropolis in tatters.
The province's top executive further complained to the prime minister that this "is clearly not the first time Mr Zaidi had shown such arrogance and belligerence at public forums which is unbecoming of any citizen let alone a federal minister".
Registering his protest against Zaidi's behaviour through the letter, Murad expressed hope that the prime minister's office "will take some action, and in future, maturity (to some extent), inter alia, will be seen as merit for appointments at such positions".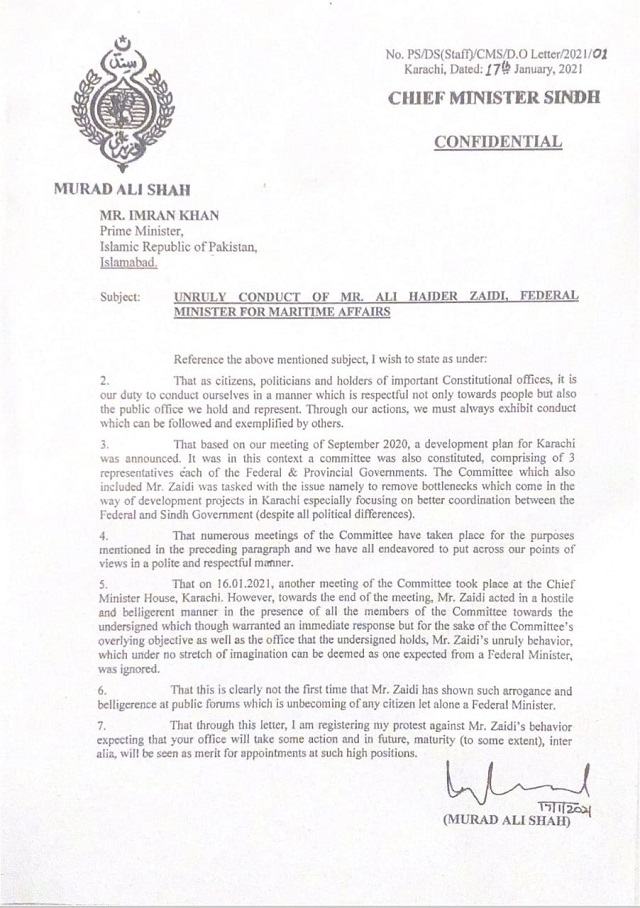 However, the federal minister on his office Twitter handle presented a different version of the reported argument. He said that he asked CM Murad to include the devolution of organisations such as SBCA and others, but Murad replied by saying, "I am not answerable to you".
"So if Mr. Know it all feels he's not even answerable to elected members of the National Assembly from his province then there was no further need for me to waste my time sitting in that meeting. And I walked out!"
Zaidi further said that the chief minister had the "audacity" to write to the premier over the matter and "his letter shows nothing but arrogance and conceit".
"He does not even have the etiquette and manners on how to address the office of the Prime Minister!"