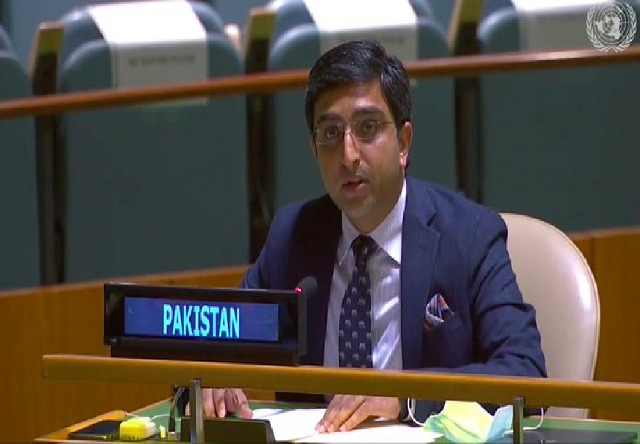 ---
UNITED NATIONS:
Pakistan has rejected India's 'unwarranted assertions' at the United Nations General Assembly (UNGA) over the recent fire incident at a Hindu temple in K-P's Karak, as the general assembly adopted a resolution co-sponsored by Islamabad against damage to and destruction of religious sites.
Pakistan's delegate Zulqarnain Chheena was responding to India's representative who criticised Islamabad's role in putting forth the resolution. According to him, those who set the temple on fire had the 'explicit' support of the country's law enforcement agencies.
Exercising his right of reply, the Islamabad's delegate advised New Delhi to set its own house in order and abstain from feigning concern for minority rights elsewhere, Radio Pakistan reported.
Also read: K-P CM announces rebuilding vandalised Hindu temple
Chheena highlighted that India is the most egregious and persistent violator of the minority rights in its own country. He pointed out that blatant acts of discrimination targeting Muslims and other minorities take place in the country with state complicity.
Earlier, the UNGA adopted the resolution proposed by Saudi Arabia and co-sponsored by other countries, including Pakistan.
I am happy that the @UN General Assembly today adopted by consensus a resolution – sponsored by 🇵🇰 🇸🇦 🇪🇬 🇸🇩🇵🇭 🇦🇪 🇲🇾 🇰🇼 🇻🇪 & other OIC countries – on the protection of religious sites. Pakistan will continue to play a leading role in denouncing violent attacks on religious sites.

— Pakistan Permanent Representative to UN (@PakistanPR_UN) January 22, 2021
On January 4, a one-man Commission on Minority Rights submitted its report in the Supreme Court on the incident, holding a local cleric responsible for inciting people to violence.
On December 30, a mob instigated reportedly by a cleric vandalised the temple in the Karak district of Khyber Pakhtunkhwa. The temple, though no longer functional, was considered a revered pilgrimage site by the Hindu community.