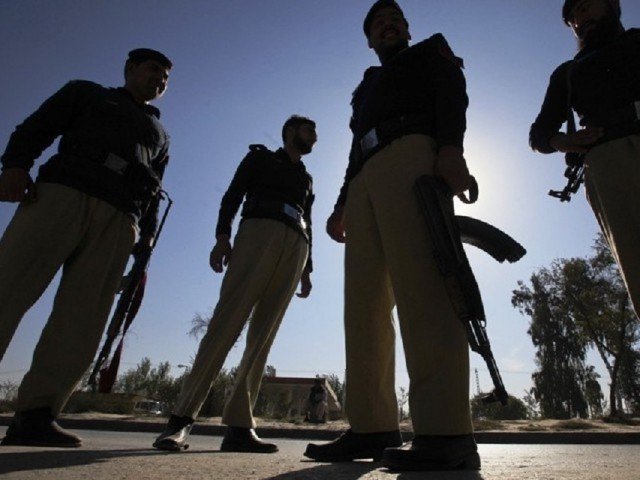 ---
DIJKOT:
Four police personnel were arrested in Faisalabad on Thursday after they opened fire at unarmed occupants of a vehicle who failed to pull over at a checkpoint on Samundari Road, killing one man and injuring three others.
The victim, identified as Sardar Muhammad Waqas, son of Muhammad Ilyas, a resident of Chak 475GB was traveling with three passengers in a car when he was signalled to stop by the policemen at the post and were shot at when they did not comply in Dijkot area.
Dozens of relatives of the slain man protested by setting fire to old tyres near Lorry Ada and blocking a road.
Punjab IGP Inam Ghani and the additional IG patrol took notice of the incident and sent SP Patrol Farooq Handal, DSP Factory Area Malik Tariq and SHO Dijkot Omar Sarfraz to the spot to investigate the matter.
An initial investigation report submitted to the IGP revealed that the police personnel had misused their power and shot dead the driver of the car, therefore four policemen, ASI Shahid Manzoor, Ghulam Dastagir, Usman Hamid and Mohsin Sufiyan, were put behind bars in Samanabad police station and a case was registered against them.
Police also handed over the body of the victim to his family after postmortem examination.
According to the First Information Report (FIR), the personnel also desecrated the body.
Sources said that the patrolling police personnel carried the corpse around for four hours in a bid to cover up the matter.
Reportedly, 35-year-old Waqas was on way to his village from Faisalabad in a car when patrolling police personnel signalled him to stop. When the driver did not stop the car, they chased him and shot at the vehicle. The victim tried to escape the gunfire near Chak 258RB but the cops shot and injured him critically, which led to his death.
City Police Officer Capt (retd) Sohail Chaudhry has formed a four-member committee to probe into the matter in detail.
The postmortem report reveals that the victim was shot in the abdomen and he passed away due to excessive bleeding.
The victim's grandfather Nazir Ahmed appealed to the prime minister to ensure justice and punish the killers.
"He was a father of two daughters and a son, earned a living by working at a poultry farm. He was innocent," he said.
The victim was buried at his native village Chak 475GB in the presence of hundreds of people.
Published in The Express Tribune, January 22nd, 2021.