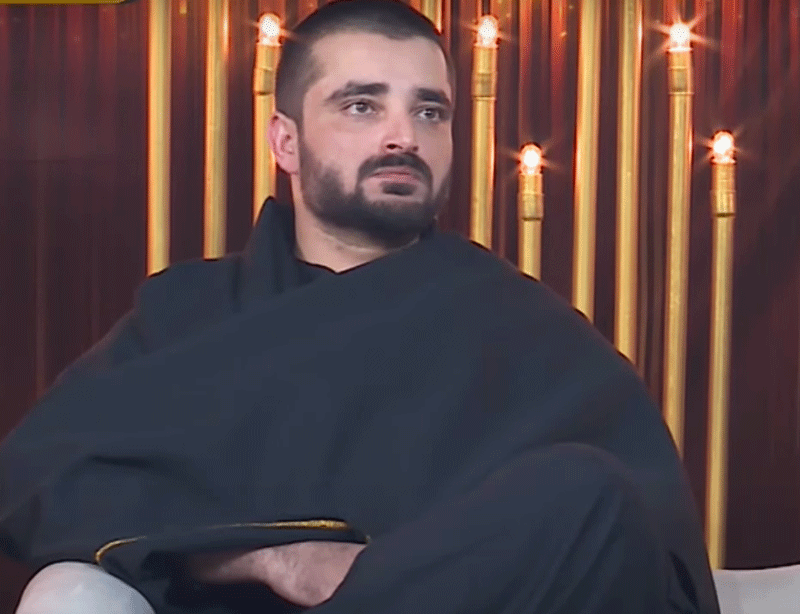 ---
Hamza Ali Abbasi has no plans of returning to showbiz any time soon, as he confirmed in a recent chat with host and co-star Ahmed Ali Butt. The star was responding to queries about the possibility of him taking up any new projects in the near future, during the anniversary celebrations of a local TV channel.
"I have taken a break for a very long time," Abbasi remarked. "I am actually working on a book. Whatever I have learned or discovered about the Almighty on my journey (to spirituality), I really want to share them. I think I will be talking about this for a very long time. So, dramas and films…These projects are very time-consuming."
To this, Bushra Ansari, who was also present in the chat, intervened. "If someone has given such a statement like Hamza or even anyone else, it's not just words. It's a promise to oneself. And if someone cannot keep their word to themselves, how can they keep their word to anyone else?" She added, "Whenever you are changing your way of life, either you change it completely or you don't change it at all. Abbasi agreed to this "wholeheartedly."
Butt then commented on how he recently spoke to the Mann Mayal star about content that could educate the masses about his journey. "I think there's more to this than just making content," Abbasi replied. "What we believe in is something that is very intense. The presence of Allah, the Day of Judgment, life hereafter, Hell, Paradise - all of it. These are very intense beliefs. And my mission would be to remind people (myself included) that this is a serious matter."
He went on, "Since I've come to realise this, my whole world has come upside down. And all I want in life now is to make everyone I know to remember the same."
The Dolly Ki Ayegi Baraat starlet added, "But you have to change yourself first. That's the initial step." Once again, Abbasi agreed. "Yes, that's the first thing you need to do. You change yourself first and then you go on to implement changes to the world."
Last year, during an introductory segment of Kasauti Online on Express Entertainment, his Butt had asked Abbasi if the 'controversy' of him leaving acting was true or not. To this, he had replied," No, not at all. I haven't left acting. In fact, I am currently working on two projects. Hopefully, they will see the light soon. So no I haven't quit acting."
Adding on, Abbasi had then noted that he has just taken a long break that was being misconstrued as him leaving the industry altogether. In 2019, the Waar heartthrob shocked fans after he revealed in a long YouTube video that he was taking an indefinite hiatus from entertainment. "My perspective of life has been changed since I realised that I have to meet my God. With this realisation, what I decided to do is that I now wish to talk to people. I wish to spread the message," he had said in a video.
The Parwaaz Hai Junoon actor had then shared that from there on, his productions would focus on showing Pakistani culture and Islam in the right light. Abbasi also said that he will be quite active on YouTube, making videos on topics he thinks should be addressed.
Have something to add to the story? Share it in the comments below.