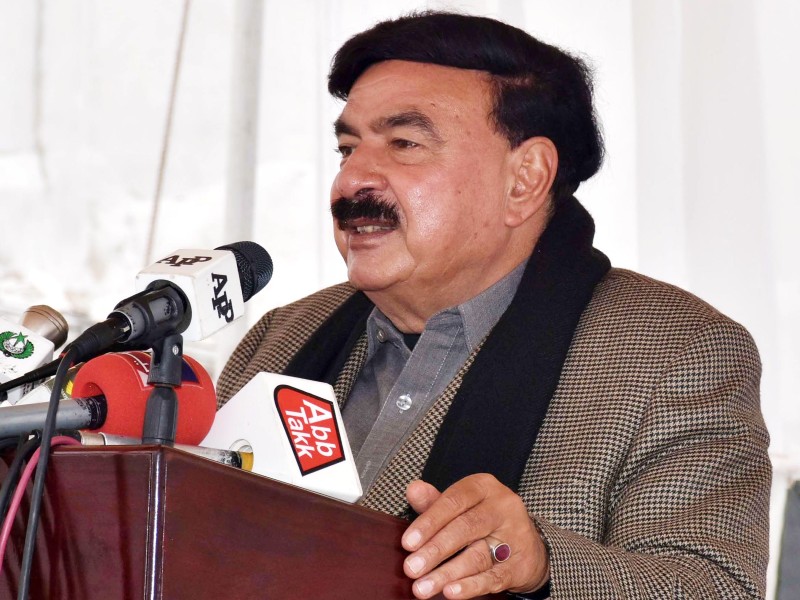 ---
ISLAMABAD:
Interior Minister Sheikh Rashid on Tuesday visited the Election Commission of Pakistan (ECP) to oversee security arrangements, ahead of the Pakistan Democratic Movement's (PDM) protest against a 'delayed' verdict by the authority in the foreign funding case involving the Pakistan Tehreek-e-Insaf.
The interior minister, alongside Home Secretary Yousuf Naseem Khokhar visited the control room and said, "everything will be monitored to maintain law and order in the city."


He maintained that entrances to Islamabad will be closely monitored, adding that he hopes the opposition parties maintain peace outside the election commission.
The protest will be spearheaded by Jamiat UIma-e-Islam (F) chief Maulana Fazlur Rehman, while the Pakistan Muslims League-Nawaz (PML-N) and Pakistan Peoples Party (PPP) supporters will be led by the PML-N Vice President Maryam Nawaz and Raja Pervez Ashraf, respectively.
Meanwhile, Information Minister Shibli Faraz said the government has not created any hurdles for the protesters. He added that the uninterrupted traffic on Islamabad's roads were proof of Prime Minister's association with democracy.
More than 1,000 police personnel will be providing security to ECP office, while the central entry point at Shahrah-e-Dastoor leading to the venue has been blocked with barbed wires and other barriers. According to details, the protesters will not be allowed to enter the ECP office premises or its parking area.
The authorities have also increased the number of security cameras outside the building.
COMMENTS
Comments are moderated and generally will be posted if they are on-topic and not abusive.
For more information, please see our Comments FAQ