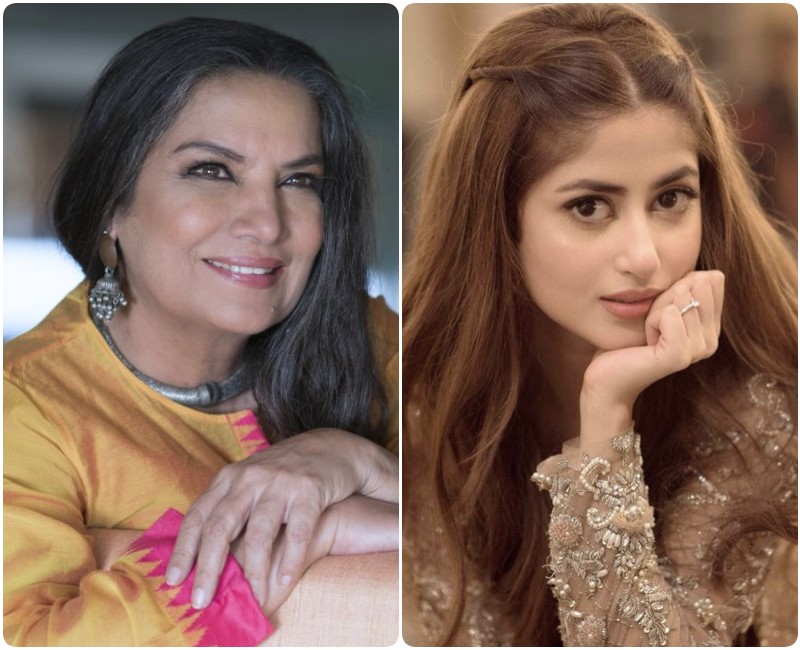 ---
It was announced last year that Jemima Goldsmith would be writing and producing her first romantic-comedy – under the banner of her company Instinct Production – titled What's Love Got To Do With It? Reports further added that she was to collaborate with Indian film-maker Shekhar Kapur on the film, which would be his first since the 2007 Oscar-winner Elizabeth: The Golden Age.
Now, it has been confirmed that the film is not only in the making, but is also being directed by Kapur with a star-studded cast. Joining the existing lineup of Lily James (Yesterday), Shazad Latif (Departure) and Emma Thompson (Last Christmas) are British actors Rob Brydon (The Trip to Greece) and Asim Chaudhry (Wonder Woman 1984), along with Pakistani star Sajal Ali (Mom) and veteran Indian actor and activist Shabana Azmi (Kaali Khuhi), reported Variety.
The internet was abuzz on Friday after BBC Asian Network reporter Haroon Rashid confirmed Aly's presence. The project would mark her second international big screen venture, with the first being Mom. Now, many are celebrating Azmi's addition, albeit, roles of both the actors have not been defined yet. Deadline had previously elucidated that the film would see James, Latif and Thompson in the lead.
Two weeks ago, it was reported that Azmi had fled to London for an international project, despite there being a travel ban, reported Bollywood Hungama. Since London was under lockdown again after the upsurge of a new strain of the coronavirus, flights between India and the UK had been cancelled and Azmi who, was committed to doing the project, almost stayed back.
"With great difficulty, I managed to find a way to reach London via Dubai. I am flying from Delhi to Dubai where I've to take an overnight break. In Dubai, I'll have to get all my Covid tests done again. Only when I'm declared all-clear would I be allowed to fly to London from Dubai," had said, without revealing what this project was going to be. Well, now we know!
Moreover, aside from Aly, both Goldsmith and Latif have family ties in Pakistan, with the prior being once married to the country's now Prime Minister and former cricket icon Imran Khan. Speaking of, What's Love Got To Do With It? Also reportedly revolves around her marriage to him. According to the Daily Mail, Goldsmith was inspired it and the film seems to be her take on it. Plot details are still under wraps though.
Nevertheless, What's Love Got To Do With It? is a cross-cultural rom-com about love and marriage, set between London and South Asia. It is based on an original script by Goldsmith (The Clinton Affair, The Case Against Adnan Syed, We Steal Secrets: The Story of WikiLeaks).
"It's a story of identities," Kapur has said. "It's about cultural clashes and it's a comedy, but it's about hiding behind an identity and how identities can become tribal, and how tribalism can lead to clashes and fundamentalism. It's a rom-com based on this fundamental idea of people adopting identities out of fear of marginalisation."
Earlier, Rashid had shared on Twitter, "It's rumoured that Sajal Aly is currently in London shooting for Jemima Goldsmith's production What's Love Got To Do With It?, directed by Shekhar Kapur. The film also stars Emma Thompson, Lily James and Shazad Latif. Sajal's rep has been contacted for confirmation. Huge, if true!"
On Friday, confirming the same, the journalist penned, "Sajal Aly has joined the cast of What's Love Got To Do With It?, directed by Shekhar Kapur and produced, written by Jemima Khan." He added, "The rom-com stars Emma Thompson, Lily James and Shazad Latif and is currently being shot in London. Confirmed by Sajal's agent Hamid Hussain."
Have something to add to the story? Share it in the comments below.