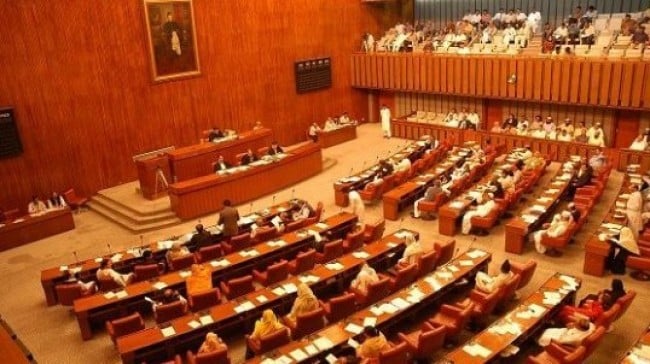 ---
ISLAMABAD:
Justice Yahya Afridi of the Supreme Court (SC) wondered on Wednesday why the federal government does not approach parliament to have the method of Senate elections changed.
This was observed by the judge during the hearing of the federal government's presidential reference seeking the apex court's guidance on holding the upcoming Senate polls through open ballot instead of a secret one.
A five-judge larger bench, headed by Chief Justice of Pakistan Gulzar Ahmed, is hearing the reference.
"The thrust of your arguments is [based] on morality but the issue is political," Justice Afridi said while addressing Attorney General for Pakistan Khalid Jawed Khan during today's proceedings.
However, the AGP stated that through the presidential reference the government only wanted an interpretation of Article 226 of the Constitution, as to whether Senate elections should be held under the Constitution or under the law.
He argued that one method encourages selling of votes, while the other ensures transparency.
The AGP further maintained that he could cite 11 instances wherein the apex court adjudicated on political matters.
He also referred to the cases wherein the court disqualified lawmakers in matters related to dual nationalities as well as non-disclosure of assets.
Justice Ijaz-ul-Ahsan, another bench member, said that if an MPA (Member of Provincial Assembly) wants to vote as per his conscience then he can stand up and vote, and face the consequences.
He asked whether deviating from one's party line in the secret balloting method was not dishonesty.
The AGP replied that MPAs were not free to give vote in Senate elections and were also bound to follow party policy.
However, Justice Ahsan stated that free balloting was then more suited to a secret ballot.
The AGP argued that the elections being held under the law could be challenged under the law, but elections being held under the Constitution cannot not be challenged under the Constitution.
The hearing of the case was adjourned till tomorrow (Thursday).
At the last hearing of the reference, on January 11, Jamiat Ulema-e-Islam - Fazl (JUI-F) had requested the SC to declare the incumbent government's presidential reference on open balloting in Senate elections as non-maintainable, based on malice and an attempt to undermine parliament.
However, both the Punjab and Khyber-Pakhtunkhwa (K-P) governments have backed the presidential reference.
The K-P government's statement maintains that "the edifice of democracy in Pakistan, rests on a system of free and fair elections and that parliamentary democracy is a basic feature of the Constitution". The concept of a democratic government depends on a free and fair election system.
COMMENTS
Comments are moderated and generally will be posted if they are on-topic and not abusive.
For more information, please see our Comments FAQ