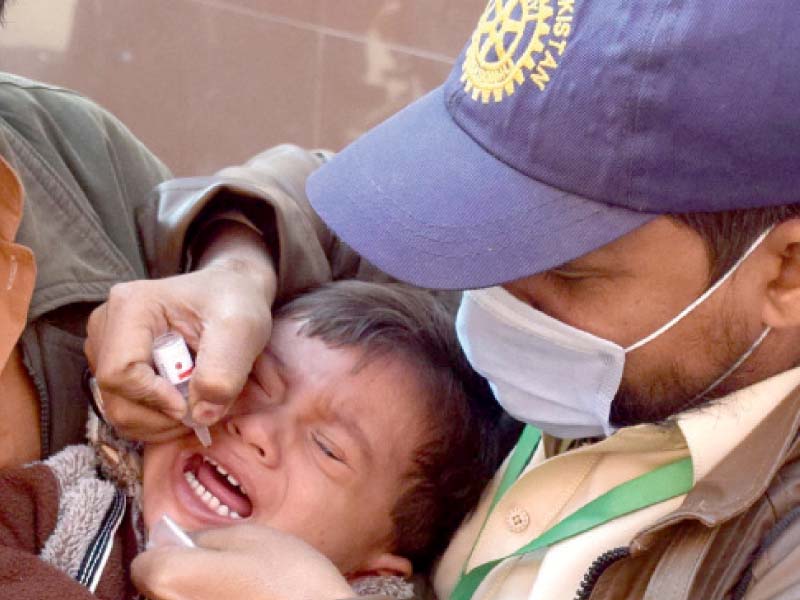 ---
Sindh Health and Population Welfare Minister Dr Azra Fazal Pechuho inaugurated the week-long anti-polio vaccination campaign on Monday, which will continue till January 17.
During the anti-polio vaccination drive, which is organised by the Emergency Operation Cell for polio, nine million children under the age of five will be administered the vaccine across Sindh. Of those nine million children, two million will be administered the vaccine in the provincial capital.
Dr Pechuho appealed to the parents to get their children vaccinated against the crippling virus to keep them safe from life-long disability.
Meanwhile, Karachi Commissioner Navid Ahmed Shaikh inaugurated the anti-polio campaign at Hilal-e-Ahmer Hospital.
"Anti-polio campaign will be organised every month till the virus is completely eradicated [from the country]," he maintained, adding that eliminating poliovirus is a national cause to make the future of the country's coming generations secure.
Shaikh asserted that the coronavirus pandemic would not halt their efforts to stamp out the crippling virus. He added that the standard operating procedures to curb the spread of Covid-19 would be implemented during the drive.
Further, Sukkur DC Rana Adil Taswar said that the authorities would bring all the available resources in use to eradicate poliovirus.
Presiding over a meeting on the day, he stated that during the vaccination campaign, as many as 92,898 children in his district below the age of five would be immunised against the virus.
"We have taken special measures to further strengthen the coverage during the anti-polio drive," he said, adding that senior staff members of the district health department have been directed to monitor the proceedings during the campaign.
Additional input from APP
Published in The Express Tribune, January 12th, 2021.
COMMENTS
Comments are moderated and generally will be posted if they are on-topic and not abusive.
For more information, please see our Comments FAQ