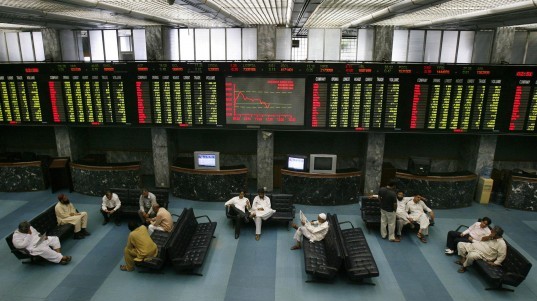 ---
KARACHI:
The stock market witnessed an extraordinary performance in the outgoing week as investor enthusiasm helped the index shoot past 45,000 points to close at over 2.5 year high value.
During the week, the KSE-100 index surged 1,219 points or 2.74% to close at 45,654.34 points. "The KSE-100 index started the new year with renewed optimism," stated a report from Arif Habib Limited. The week opened on a positive note and saw market participants weighing sentiment on successful talks between the government and the Independent Power Producers (IPPs) during which the government vowed to clear Rs450 billion worth of circular debt in the power sector. This development turned out to be the muchneeded driving force for the market and triggered a buying spree in IPP scrips. The bourse witnessed a turnaround on Tuesday in line with weak global cues and drop in international equity markets. An overnight plunge in global oil prices prompted market participants to offload stocks.
However, the decline was short-lived as the market recovered and posted gains during the remaining sessions of the week on back of a host of positive news flows. Upbeat petroleum products sales data, which showcased double digit growth in December 2020, combined with a steep recovery in global oil prices revived the bullish activity at the bourse and placed the refinery sector under the limelight. Moreover, removal of customs duty on 152 tariff lines by the government was welcomed by the market and helped keep the buying momentum alive. Textile sector scrips turned attractive as the market anticipated announcement of a textile policy. Upbeat cement sales data for the last month of 2020 lent additional support to the market and fuelled investment in cement and steel sector stocks. The final session of the week saw the market sustain the uptrend supported by optimistic trade data for December 2020, which made investors assume fresh positions.
While this week's bull-run was mainly led by the refinery sector, the index heavyweight commercial banks also provided due support as the economic recovery in the country appeared to be on track and loan growth outlook improved considerably. "We expect the bull-run in the market to continue. Development on the vaccine front and its gradual roll-out across the world is likely to keep interest in equities afloat," stated Arif Habib Limited report. Investor participation remained healthy as average daily traded volume increased 18% week-on-week to 625 million shares while value traded averaged at $153 million per day, up 8% on a weekly basis.
In terms of sectors, positive contributions came from banks (561 points), fertiliser (224 points), oil and gas exploration (153 points), power generation and distribution (66 points) and chemicals (47 points). Scrip-wise, positive contributions were led by UBL (154 points), HBL (117 points), Meezan Bank (90 points), Dawood Hercules (88 points), and MCB (80 points). Foreigners turned net buyers this week as foreign buying clocked-in at $3.4 million compared to a net sell of $46.22 million last week. Buying was witnessed in commercial banks ($3.64 million) and technology ($2 million). On the domestic front, major selling was reported by insurance companies ($8.1 million and banks / development finance institutions ($8.1 million). Among other major news of the week was; trade deficit widened by 32.04% to $2.7 billion in December, ECC approved additional wheat import for buffer stock, SBP stated growth outcome hinged on response to Covid and cement sector posted 11.18% growth in December.
COMMENTS
Comments are moderated and generally will be posted if they are on-topic and not abusive.
For more information, please see our Comments FAQ