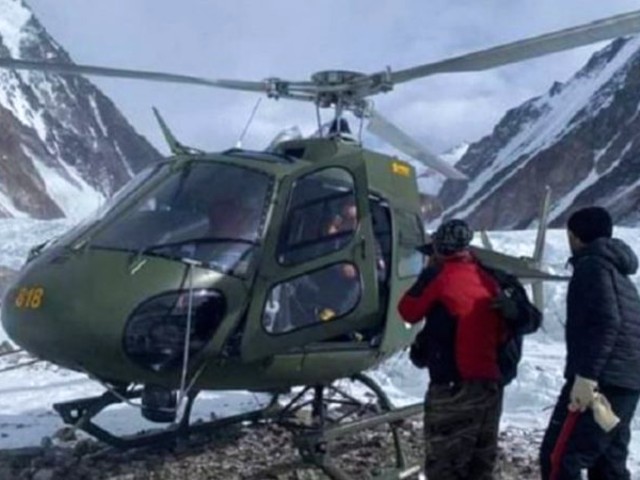 ---
RAWALPINDI:
Pakistan Army has airlifted an ailing Polish mountaineer from K2 base camp to Skardu, abruptly ending his expedition owing to a disease.
Waldemar Kowalewski's ascent to the K2 summit was cut short after he complained about a hernia that developed during a load-carrying trip to advanced K2 base camp. He was a part of the biggest international SST K2 winter expedition.
An Army Aviation helicopter evacuated the afflicted Polish climber from the world's second-tallest mountain to Skardu, where he is being treated for hernia.
This is the second time that Kowalewski has attempted to ascent K2 — the worlds famed second-highest peak — in winter.
Sadly, both of his expeditions have ended early and abruptly due to injuries. In winter 2018-19, he was hit by a chunk of ice on his way to Camp-1.
Pakistan's northern area is considered as an ideal destination for adventure tourists who throng to the country to scale its high-altitude peaks.
Every year foreign mountaineers visit Gilgit-Baltistan, also called the "mountaineers' paradise", as five of the world's 8,000m-plus peaks are located in the region, including K-2. Unfortunately, several tragic incidents also occur to the expeditions during their missions.
In February 2020, Pakistan Army rescued two foreign climbers trapped in the country's eastern Karakoram mountain range in the Himalayas, according to Inter-Services Public Relations (ISPR).
"Pakistan Army Aviation pilots rescued two foreign mountain climbers, Mr. Donald Allen Bowie (USA) and Ms. Lotta Henriikka Nakyva (Finland) from Broad Peak, Baltoro Glacier … part of an International Winter Expedition attempting to summit Broad Peak but stranded en route due to sickness,", said the military's media wing.
In 2019, two British mountaineers trapped near the Koyo Zom peak in the Chitral district were retrieved by the army.
In 2018, French mountaineer Elisabeth Revol was rescued from Nanga Parbat, after getting trapped there while trying to summit the peak.
COMMENTS
Comments are moderated and generally will be posted if they are on-topic and not abusive.
For more information, please see our Comments FAQ