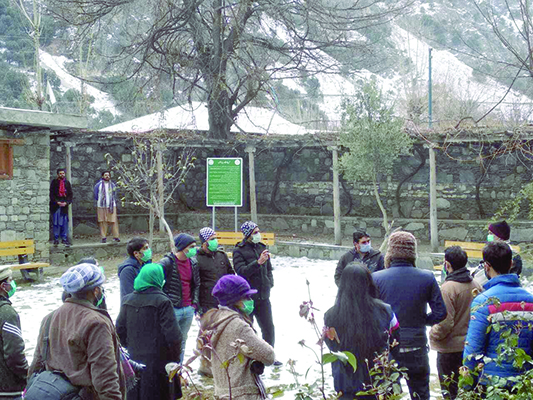 ---
CHITRAL:
Thousands of tourists have been pouring in from across the country into Chitral valley in the dead of the winter overcrowding the hotels and guest houses in the far flung areas especially Kalash valley.
Chitral is always a hotspot for tourists who visit often in the summers to escape the scorching heat of K-P and Punjab planes. But this year locals as well as the hotel owners are pleasantly surprised to see the inflow of tourists in the freezing cold weather.
While talking to The Express Tribune, some tourists said that they go to Muree, Abbotabad and other hill stations routinely in winters to see the snowfall but they wanted a change this time and this is why they decided to go to Chitral instead.
"We wanted to experience Kalash valley covered in a white snow blanket and experiencing the winter in one of the world's highest mountain ranges is a unique experience," they said.
Since there is no source of income for the people of Kalash in winter, they are more than happy to have such large number of tourist off-season.
"Since Chitral is not overcrowded compared to other hills stations in the province so even in the face of Covid-19, it is comparatively safe to visit and that is why thousands of tourists visited the valley in summer," said a local resident of Chitral, adding that it was the second year in a row when tourists were coming to Chitral in the winters.
"It is not easier for an outsider to travel for hours in this kind of cold in the Hindu Kush ranges on dangerous mountain roads just to experience snow fall first hand," he said, adding that probably the provincial government's campaign to promote K-P as a safe place for tourists was encouraging youngsters and even families to come to Chitral.
The head of the Kelasha Museum in Bamborit, Akram Hussain Kelash relayed that due to the pandemic, the museum remained closed most of the time but even then around 18,000 people visited it from March to December last year.
"During October till December more than 3,000 tourists visited it despite the fact that these are extremely cold winter months in Chitral," he informed, saying that foreigners were also among the tourists.
"Three thousands tourists in the winter months is a new record for us," he said, adding that most of the visitors were university students led by their teachers.
"Government should focus on the development of infrastructure and hotels to facilitate the tourists which will bring an economic boom to the area," he argued.
Published in The Express Tribune, January 4th, 2021.
COMMENTS
Comments are moderated and generally will be posted if they are on-topic and not abusive.
For more information, please see our Comments FAQ