 ---
In the past few months, rumours have linked Imran Abbas with Ehd-e-Wafa actor Alizeh Shah. Earlier this week, reports of the two actors getting engaged started to circulate heavily on social media.
The Darr Khuda Say star after being repeatedly prodded by fans and outlets over this piece of news has finally responded. Abbas has deemed all these reports as baseless. Taking aim at YouTube videos spreading this news, Abbas in an Instagram story posted a screenshot of thumbnails making the claim.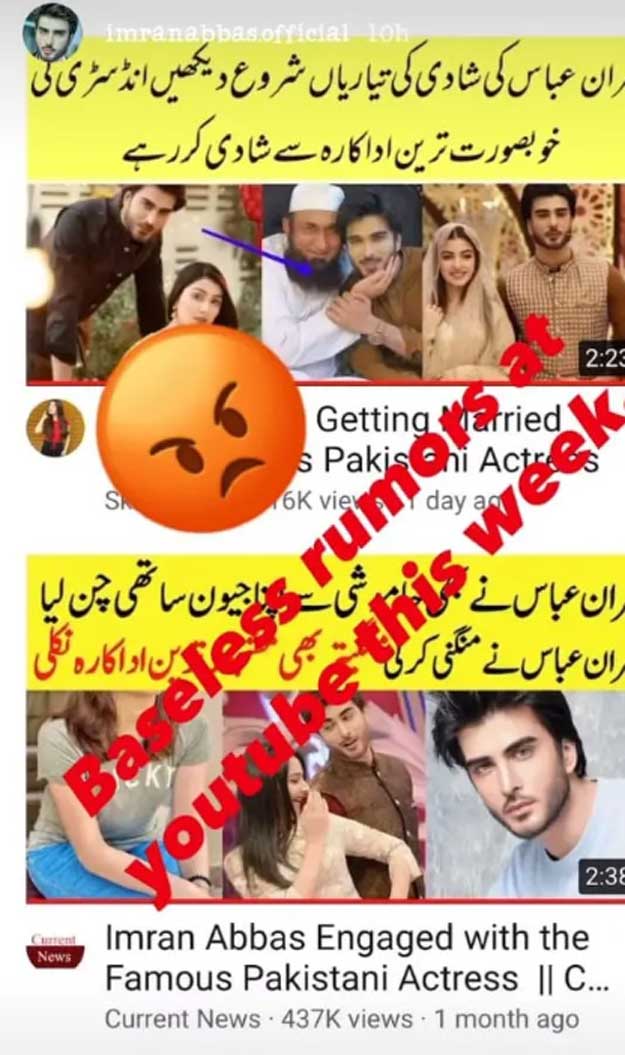 "Baseless rumours at YouTube this week," Abbas wrote in the story. Both Abbas and Shah starred opposite each other in 2019's television serial Jo Tu Chahey. During their time together on the sets, the pair was known to post fun-filled videos on TikTok that perhaps instigated such reports.
At present it is not yet known as to what project Abbas will be working on next. However, he has been active on his social media. Back in October, the actor had an encounter with Diriliş: Ertuğrul actor Cem Ucan. Pictures of the two enjoying a game of pool together in Turkey surfaced on social media.
Both actors took to Instagram to share photos of the encounter. Ucan who plays Aliyar Bey in Dirilis: Ertugrul wrote, "Thanks for your visit my brother" in the caption alongside a photo of the two together.
Have something to add to the story? Share in the comments below.
COMMENTS
Comments are moderated and generally will be posted if they are on-topic and not abusive.
For more information, please see our Comments FAQ