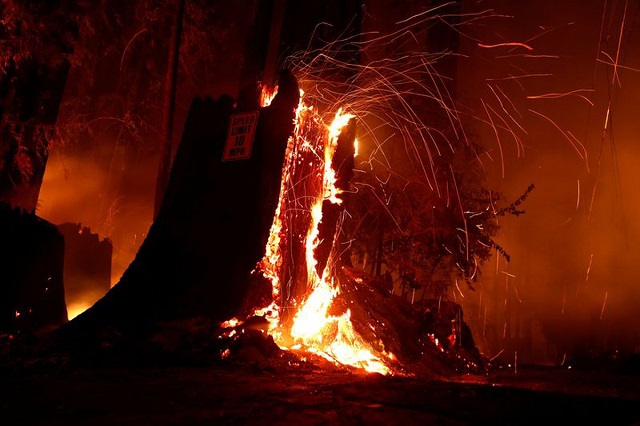 ---
In summers, Karachi swelters under the scorching sun, and in winters, the megalopolis finds itself in the midst of roaring flames, erupting across it frequently. Such was also the case in 2020, when the city saw an increase in fire incidents at the beginning of the year and towards the end, marking the end and the onset of the winter seasons.
Of over 2,000 fire incidents reported in the city during 2020, most, numbering 260, were reported in February and least, adding up to 115, were reported in May, when Karachi's temperatures peaks.
Besides, 246 fires erupted in Karachi in January this year, 210 in March, 119 in April, 177 in June, 159 in July, 132 in August, 124 in September, 228 in October, 212 in November and around 140 in December.
Of these, five were declared third-degree blazes and nearly 200 broke out in factories.
Most fire incidents, total 247 in number, were reported at the Saddar fire station during the year, while none were reported at truck-stand fire brigade station, SITE Super Highway-I fire station, Gulshan-e-Maymar fire station and Hawkes Bay fire station throughout the year.
Besides, 175 fire incidents were reported at Central fire station, 217 at Sohrab Goth fire station, 211 at Nazimabad fire station, 199 at SITE Industrial Area fire station, 155 at North Karachi fire station, 151 at Korangi fire station, 128 at Lyari fire station, 124 at Landhi fire station, 101 at Manzoor Colony fire station, 74 at Gulistan-e-Johar fire station, 73 at Gulshan-e-Iqbal fire station , 71 at Bolton Market fire station, , 48 at Shah Faisal Colony fire station, 42 at Civic Center fire station, 39 at Orangi Town fire station, 38 at SITE Super Highway-II fire station, 12 at Malir fire station and four at Baldia Town and Bhain Colony fire stations each .
Third-degree fires
Five third-degree fires were reported in Karachi during 2020.
Third-degree fires are blazes of large magnitudes and difficult to control.
The first incident of a third-degree in Karachi during 2020 was reported on June 11, when an intense blaze gutted the sixth and seventh floors of a textile factory in SITE Industrial Area.
Given the high intensity and magnitude of the blaze, the fire department had to seek the Karachi Port Trust and Pakistan Navy's assistance to douse the roaring flames.
The fire left the structure of the building badly damaged.
It was preceded by another third-degree fire that broke out in a packaging factory in Landhi Export Processing Zone on July 19, 2020 and engulfed two other nearby factories.
Another third-degree fire was reported on October 6, 2020, as a factory went up in flames in SITE Industrial Area. The next day, a fire broke out in another factory in the area and intensified overtime, turning into a third-degree blaze.
On October 17, yet another third-degree fire erupted in a paint factory in the same area.
Occupational hazards
Around 200 fires broke out in the city's factories, of more than 2,000 reported from Karachi.
Most factory units, 33 to be exact, were gutted in fires in November and least, numbering five, in May.
According to data shared by the fire department, fires broke out in 20 factories in January this year, 26 in February, 21 in March, 12 in April, 10 in June, 14 in July, 11 in August, 14 in September, 26 in October and 33 in November.
Of fire safety and late arrivals
Amid the increasing numbers of fires in November, the Karachi chief fire officer had informed the Sindh High Court that 30 fire tenders of the fire department were out of order at present and the department had been managing operations with just 14 fire tenders. "And 14 fire tenders are not enough for the city," he had admitted, adding that each fire station needed at least four fire tenders.
While this explains the fire department's ineptness, as citizens continue to decry the late arrival of firefighting staff in cases of fire emergencies, fire department officials point out that people, too, do not implement fire safety measures at their houses and workplaces.
Multiple fire department officials told The Express Tribune on the condition of anonymity that over 95 persons affected by fires had answered in negative when they asked them whether they knew the fire helpline.
"And then we get to hear that we reached the place of the incident after a delay of two hours," said one among them.
Maintaining that they receive information about a fires breaking out late, they further pointed out that narrows streets and haphazard constructions posed difficulties in the way of firefighting operations, especially at commercial and industrial units.
Building codes pertaining to fire safety too are ignored most times, they added.
Published in The Express Tribune, December 31st, 2020.