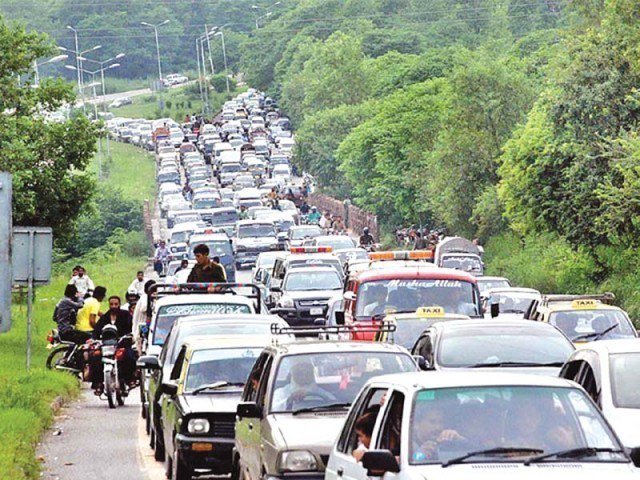 ---
MURREE:
The most popular hill station of the country is teeming with tourists ahead of New Year's Eve and there is no water in the taps.
The situation sent the administration scrambling to the town hall, seeking immediate resolution of water shortage.
The top administrative officer of the otherwise quaint town is an assistant commissioner. Murree Assistant Commissioner (AC) Waqar Hussain held a meeting of city's traders and public representatives to review the water crises as revellers continue to pour in with an aim to give a fitting goodbye to the worst year in their memory.
He told the concerned hotel and restaurant owners that the administration is taking measures to overcome the water shortage in the hill station. The official was chairing a review and redressal meeting of public issues on Wednesday.
AC Hussain noted that because of the vacant seat of the joint secretary and municipal infrastructure office of the water board, there is a severe shortage of water supply in Murree. He said due to this shortage, visitors making their way to the hill station to welcome and celebrate the beginning of the New Year will face extreme difficulties.
The AC further lamented that a number of projects concerning the installation of motor pumps and repair work on water supply lines remained at standstill as a result of the absence of the relevant official.
He hoped that the vacant seat will be filled soon as it is of a basic pay scale (BPS) 18 public health official, stating that there must be a competent person suited for the position so that the water issues of the hill station may be resolved quickly.
Furthermore, the Pakistan Tehreek-e-Insaf (PTI) Murree General Secretary Raja Shehzad complained to the assistant commissioner about the presence of professional beggars on Mall Road. He said that they created nuisance in the area and troubled the visitors, of which there will be many on the occasion of New Year's Eve.
In response to the general secretary's concern, the AC assured that the administration would address the issue at the earliest and ensure a safe environment for the visitors. He added that both the locals as well as the visitors will be provided the utmost support and stressed that all relevant standard operating procedures against the novel coronavirus must be followed.
Published in The Express Tribune, December 31st, 2020.