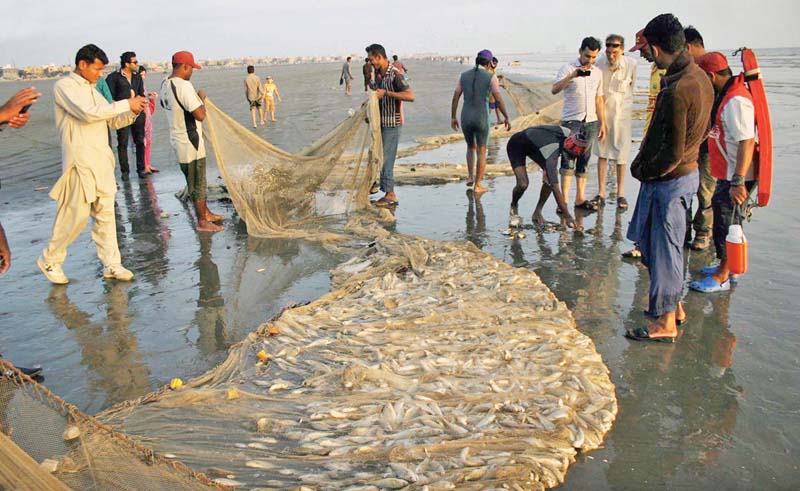 ---
LAHORE:
The demand for fish in the provincial capital has increased during winter and its price is likely to rise to Rs400 per kilogramme.
Government hatcheries in Punjab have produced more than 85 million fish of different species. The most demanded fish are Rahu, Thela and Mori. Citizens prefer fish over chicken due to its nutritional value. According to medical experts, eating fish two to three times a week in winter can prevent many diseases. The record 85 million fish produced in Punjab this year include Rahu, Mori, Tilapia, Gulfam, silver carp and bighead carp.
Baby fish produced in the hatcheries of the fisheries department are being sold to farms across the province. There were 20 government and 57 private hatcheries in Punjab where farmers produce baby fish as per their requirements. Punjab Fisheries Department spokesperson Mian Ghulam Qadir said that this year the target was to produce 80 million baby fish. "However, the fisheries department has produced more than 85 million." He further said that fish was a complete protein-rich food and its demand was high as the trend of consuming it in the city was increasing.
He added that the department was not only providing necessary services to the farm owners to increase production but also trying to increase production through fish stocking in fresh water. "For this, modern methods of fishing are also being adopted." The Lahore fish market sells not only freshwater fish from Punjab but also fish produced in farms, he highlighted. "Some types of fish are also brought from Karachi. They include mostly large and finger fish." According to sellers at Lahore fish market, the price per kilogramme has crossed Rs300 and in the coming days it will reach Rs400. According to the vendors, the price of fish was determined by its weight categories.
The price of big fish is higher. Fresh fish kept in water tanks from farms in different parts of the city are also being sold and their price is higher than that in the market. Residents of posh areas prefer this fresh fish. Medical experts say eating fish reduces the risk of heart disease, blood pressure, mental illness and cancer. Dr Salman Kazmi told The Express Tribune that fish meat was beneficial for human health. "Grilled and fried fish is more nutritious. Fish contains a protein that provides effective protection against heartburn and neurological diseases. Fish is an excellent nutritional source to fight depression." Medical experts added that the omega-3 fatty acids in fish counter hereditary diseases.
The fats prevent formation of clots in the arteries and keep the blood thin. This is a great gift of nature for the heart, brain, eyes, skin, stomach and intestines. Countries that consume more fish have lower rates of skin diseases, including cancer, and mental and cardiovascular diseases. Fish are quite cheap in Pakistan and eating them it two or three times a week can prevent many diseases, the health experts said.
COMMENTS
Comments are moderated and generally will be posted if they are on-topic and not abusive.
For more information, please see our Comments FAQ