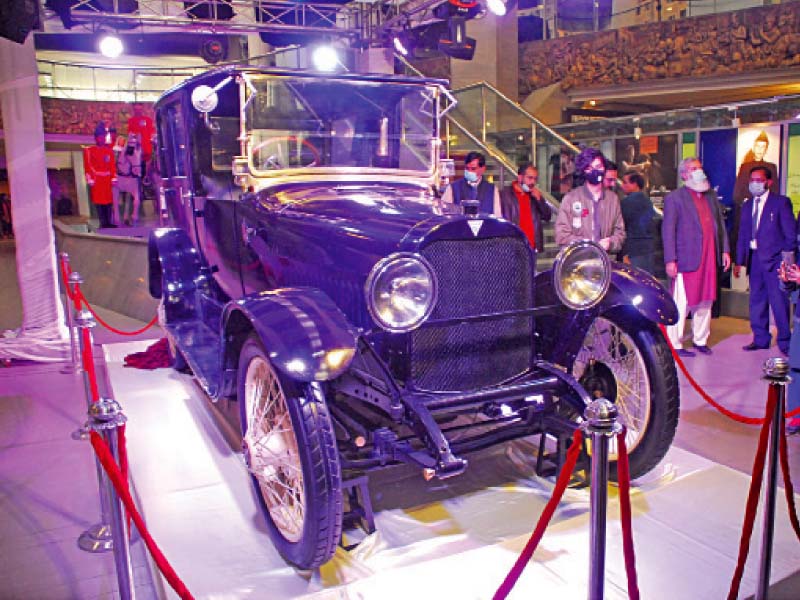 ---
ISLAMABAD:
A 1920 Hudson Limousine that remained in the use of Quaid-i-Azam Muhamamd Ali Jinnah went on display at Pakistan Monument Museum.
Minister for National History and Literary Heritage Shafaqat Mahmood unveiled the limousine and thanked Eassaji Musaji family from Balochistan who donated the vintage car to Lok Virsa Museum.
The display was part of special programmes organised by the National Institute of Folk and Traditional Heritage (Lok Virsa) to pay tribute to father of nation Quaid-i-Azam in connection with his 145th birthday on December 25.
Mahmood said: "We got separate homeland due to a long struggle of Quaid-i-Azam on the basis of two nation theory."
Quaid spent his whole life for the achievement of an independent country for the Muslims of South Asia, the minister said, adding that now it is the duty of the Pakistani nation to continue that struggle which Quaid-i-Azam started, for the uplift of the nation and its people.
Lok Vrisa had also arranged exclusive programmes including Quaid's birthday cake ceremony at the Pakistan Monument Museum, a photographic exhibition on the Quaid, an exhibition of books and discussions on role and responsibility of Jinnah as the founder of a new nation for the Muslims of the Subcontinent.
Other programmes included display of popular national songs on the large multimedia projector screen in Museum Hall, screening of documentaries on Quaid's life in Pakistan Monument and Heritage Museum, performance by folk singers while a group of traditional drummers also mesmerized audience.
A large number of people from different walks of life participated in Quaid's day celebration at Lok Virsa and Pakistan Monument Museum.
Published in The Express Tribune, December 25th, 2020.
COMMENTS
Comments are moderated and generally will be posted if they are on-topic and not abusive.
For more information, please see our Comments FAQ