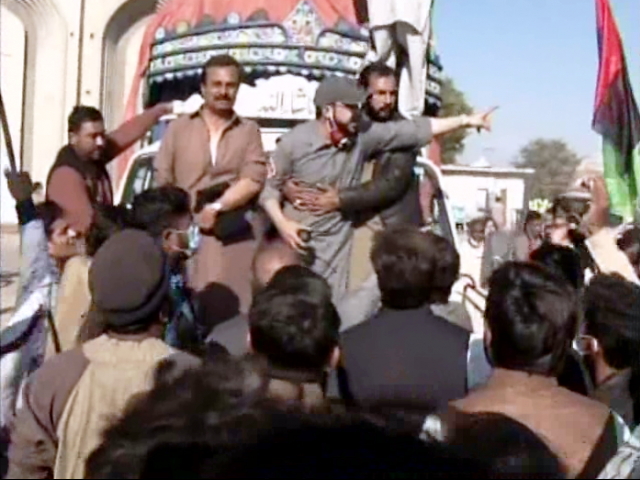 ---
MULTAN:
At least 25 activists of the Pakistan Democratic Movement, including Pakistan Peoples Party's Ali Qasim Gilani, were arrested on Sunday after clashes broke out again between the Punjab Police and the opposition alliance's workers ahead of its Multan rally.
The PDM workers and the city administration clashed a day before as alliance's members tried to enter the Qasim Bagh Stadium in the southern Punjab city — the venue of the PDM's gathering scheduled for November 30.
The PDM workers again reached the venue with a crane in the wee hours of Sunday to lift the containers placed at the various entrances of the stadium by the district administration.
Activists of the alliance soon after met with a heavy contingent of police officials led by Multan CPO Hassan Raza. The CPO also summoned the reserve personnel of the police line to tackle the workers.
The police baton-charged the activists and rounded up at least 25 PDM workers, including PPP's Gilani.
Following the arrests, the remaining activists were said to have left the stadium empty. Making use of the situation, the district administration and police reinstalled the blockades removed from the venue.
Speaking to Express, Multan CPO Raza said that a First Information Report (FIR) had been registered against the PDM workers. "Those who break the law will be dealt with ann iron hand," he said.
PPP Chairman Bilawal Bhutto Zardari condemned the arrest of party workers and said that government in Multan was afraid of celebrations of the founding day of PPP.
"We will hold a meeting on November 30 anyway and in any case," he said. "If there is any inconvenience to the workers, there will be protests in all corners of the country."
During yesterday's clashes, activists were seen jumping over barricades placed outside the stadium and breaking the lock on the gate. They chanted slogans after getting inside the venue despite efforts by authorities to stop them from doing so.
The Islamabad High Court, in its decision on November 19, had placed a ban on all outdoor gatherings of more than 300 people.