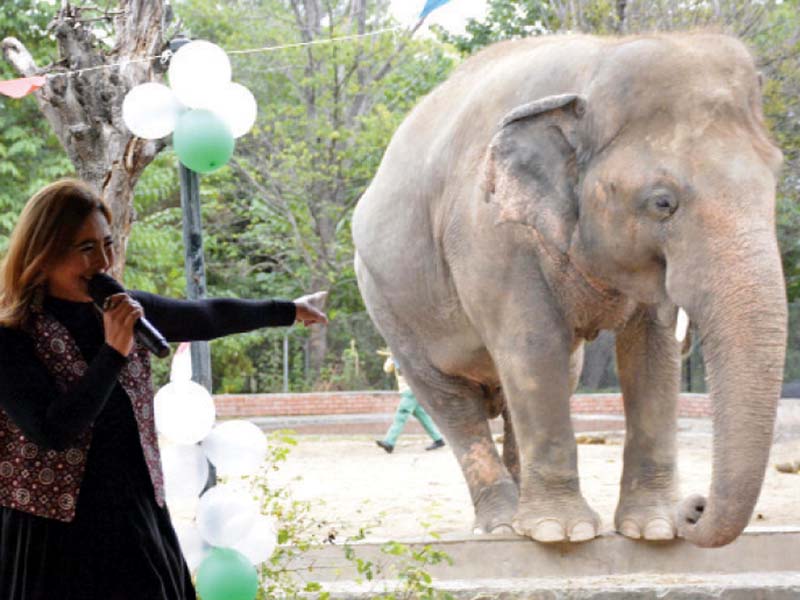 ---
ISLAMABAD:
The federal climate change ministry on Monday issued permits for shifting Kavaan, the only elephant in Islamabad Zoo, to a sanctuary in Cambodia.
The permit was issued by Ministry of Climate Change (MoCC) official Samar Hussain on Monday morning, just days before his scheduled departure.
The Cambodian government has already issued a permit to accept the pachyderm.
Sources in departments involved in handling the elephant told The Express Tribune that Kavaan is scheduled to leave for his new home at 6pm on November 29.
Currently, Kavaan is undergoing a health and fitness checkup apart from training to live in his metal crate - which arrived last week, for the duration of the journey to the South Asian state under the supervision of international experts. The crate weighs as much as Kavaan at 5.5 tonnes.
Personal concert
In view of his imminent departure, the MoCC on Monday organised a farewell party for Kavaan.
Balloons lined his enclosure while he was given a host of treats to eat. A live musical concert was also organised.
Special Assistant to Prime Minister (SAPM) on Environment Malik Amin Aslam said that soon, Kavaan leaves for his new home in Cambodia where he will hopefully live a more cheerful life.
"Our main purpose to shift Kavaan to another country is that he can live in his natural habitat and remain happy in the days to come," Aslam said, noting that Kavaan is also close to his retirement age with the expected life of Asian elephants around 40-45 years.
The sanctuary where Kavaan was going, the special assistant said, is spread over some 25,000 acres, providing sufficient room for him to move.
Moreover, Aslam said that elephants are social animals and are not meant to live in solitude.
Kavaan became mentally sick when lived alone [after the death of his partner Saheli] and suffered from various health issues. But now Kavaan has been declared by the relevant committee [to be fit to] travel to the Cambodian sanctuary, he added.
Admitting that his departure is indeed sad, Aslam added that it has to happen for the elephant's well being.
A Russian plane, he said, has been chartered to take Kavaan to Cambodia.
Dr Amir Khalil, a veterinary doctor who has been overseeing Kavaan's return to health, said, "When I came in contact with Kaavan, he was moving his head from right to left continuously for 18 hours, showing that he was going through various psychological issues," Khalil said.
Published in The Express Tribune, November 24th, 2020.
COMMENTS
Comments are moderated and generally will be posted if they are on-topic and not abusive.
For more information, please see our Comments FAQ