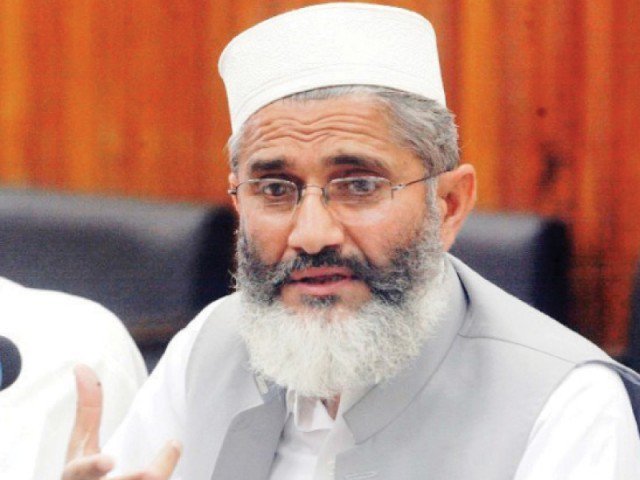 ---
SWAT:
Jamaat-e-Islami (JI) Chief Sirajul Haq said on Sunday that Prime Minister Imran Khan had promised that he would not lie but he has given the word a new name: 'U-turn'.
While addressing his party's rally in Swat, the JI chief lamented that the current government had disappointed the nation as it had made "death and honour cheap".
"Our country is disgraced in the whole world," he claimed. "Our allied nations have turned their backs on us. The blood of innocent people was shed in Swat. The region saw the worst migration of 1.8 million people, but as a result of these sacrifices the government of justice did injustice," he said.
Haq further reminded the crowd that PM Imran had promised to resign if people protested against him and today people from Karachi to KP were cursing him.
"He should fulfil his promise and resign," he said, adding that the premier had promised to turn governor house(s) to universities along with building 5 million houses, but not a single house has been built as of yet.
He added that the one who promised people 10 million jobs has now "left 3.5 million people unemployed".
Talking about the Pakistan Democratic Movement (PDM), the opposition's alliance to oust the incumbent government, the JI chief said that they were no different from each other, "the only difference they have is on who will ride on the horse's back".
"The PDM is to secure the interests of a few families, whereas we [the JI] are talking about securing the interests of this country's poor, students, farmers, mothers and their children," he said. "The governance in this country is running on the basis of 'contracts'... the Jamaat-e-Islami does not stand for this," the JI chief added.
He said those who 'stole' sugar and wheat are 'delivered' to the assemblies whenever a new government is formed. "If the people want justice in this country, then they have to bring the JI into power," Haq maintained.
On November 8, the JI chief said that "This [PTI] government proved itself worst than previous regimes of the PML-N, PPP and Pervez Musharraf. It destroyed the economy and damaged every institution in half of its tenure. People are ready to march towards Islamabad to get rid of the Imran Khan regime if rulers remained unconcerned to the miseries of the masses."
In fact, he said, the PTI government is the 'gift' of the PML-N and the PPP policies to the masses.
"Both parties who are now posing as opposition desperately failed to introduce institutional reforms and improve the economy, letting the PTI to deceive the masses in the name of change," Haq said.