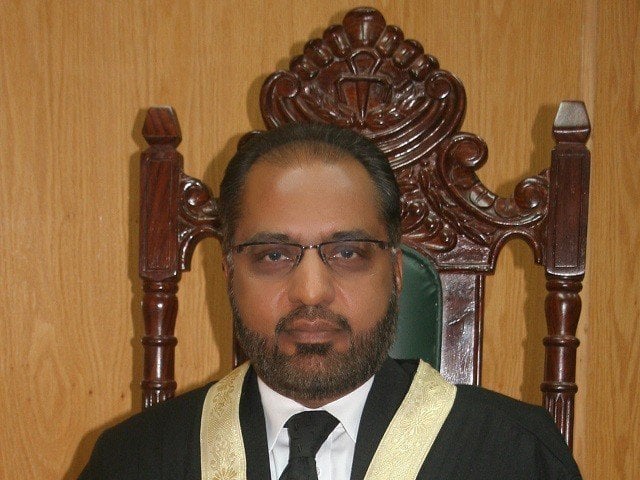 ---
ISLAMABAD:
Islamabad High Court (IHC) sacked judge Shaukat Aziz Siddiqui has requested the Supreme Judicial Council (SJC) – the constitutional forum that can hold superior court judges accountable – to provide him the copies of the SJC proceedings against him as well as Muhammad Anwar Kasi, the IHC former chief justice.
In his first application, Siddiqui has stated that former IHC chief justice Kasi was also facing SJC proceedings for alleged misconduct but the former CJ was exonerated on October 12, 2018, a day after the same forum sacked him for accusing the top spy agency of manipulating court benches.
"The record of the case [the SJC proceedings against Kasi] is very much relevant for the applicant [Siddiqui] to substantiate his version before the Supreme Court," he said.
A five-judge larger bench of the apex court led by Justice Umar Ata Bandial is hearing Siddiqui's appeal against his removal. "In the interest of justice, it would be appropriate and lawful to provide certified copies of the complete record of the reference against Kasi," he added.
Siddiqui also moved another application seeking certified copies of the SJC orders in his case.
Justice SIddiqui in his speech at the Rawalpindi District Bar Association on July 21, 2018 targeted the top spy agency – the Inter-Services Intelligence – and accused it of manipulating benches.
Later, the federal government had moved a presidential reference against the judge and President Dr Arif Alvi on October 11, 2018 removed Justice Siddiqui on the recommendation of the SJC.
The SJC, then headed by former chief justice Mian Saqib Nisar, had ruled that the judge had displayed a "conduct unbecoming of a high court judge."
Siddiqui later challenged the SJC decision, contending that he had been sacked without a proper inquiry to prove the claims he made during his controversial speech at the bar function.
Challenging his removal, Siddiqui had leveled serious allegations of 'bias' against the former CJ.
In his 30-page petition, the former judge explained the context in which he was compelled to address the bar association and uttered remarks about alleged involvement of certain officers from the executive organ of the state in affairs of the judiciary and alleged manipulation in formation of benches.
Retirement age of a high court judge is 62 and only seven months are left in Siddiqui's superannuation as he will be 62 year on June 30, 2021.
The SJC comprises five members. The chief justice of Pakistan is the SJC chairman while two senior most Supreme Court judges and two senior most chief justices of the high courts are members of the council.
Currently, CJ Gulzar Ahmed, Justice Mushir Alam, Justice Umar Ata Bandial and Sindh High Court (SHC) Chief Justice Ahmed Ali M Shaikh are its members.
After the death of Peshawar High Court chief justice Waqar Ahmad Seth, IHC Chief Justice Athar Minallah will be the new SJC member as he is now the second senior most high court chief justice.