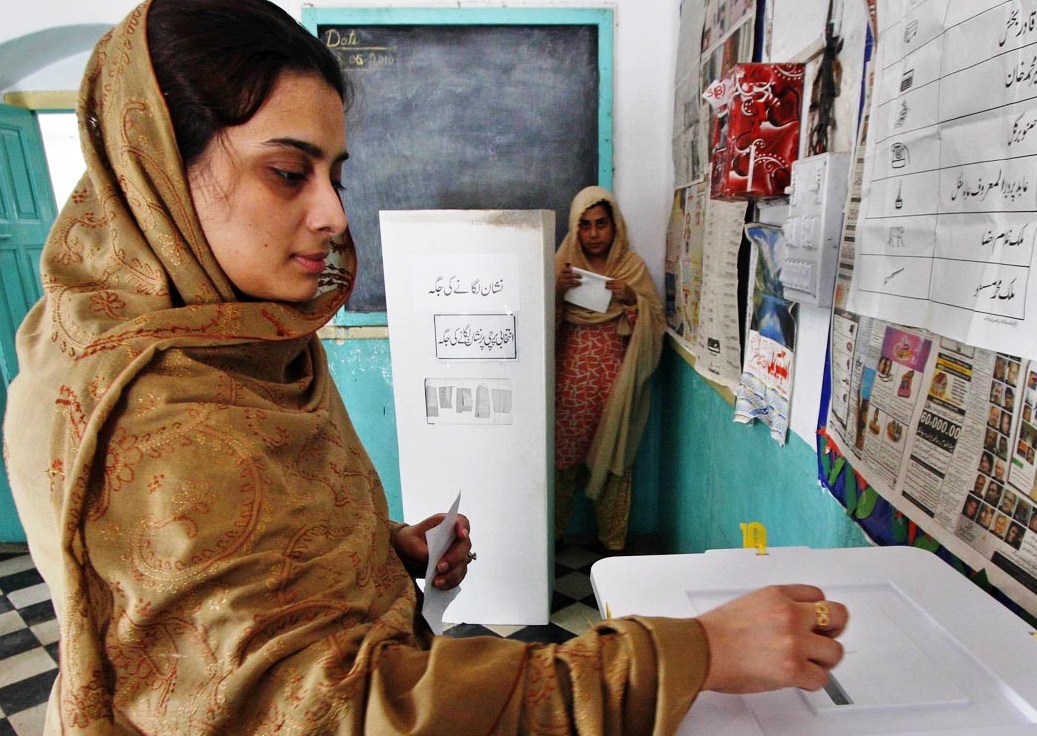 ---
LAHORE:
The under-representation of women in Gilgit-Baltistan (G-B) elections can be assessed from the fact that only four female candidates will be contesting the region's polls, which are scheduled to be held on November 15.
Out of a total of 745,361 registered voters in the region, 339,998 are women, which constitutes 46% of the total electors.
For 2020 elections, 65,365 more male voters have registered themselves, resulting 9% increase in the gender gap.
This time 547 candidates submitted their nomination papers including eight women candidates. After scrutiny, 327 candidates appeared in the final list which include four female candidates.
This is the same number as of 2015 elections but the number of male candidates increased from 263 (in 2015) to 323 (in 2020).
All the four women candidates are contesting from one constituency each while in 2015 elections, they contested from five constituencies.
Section 206 of the Elections Act, 2017, obligates political parties to give 5% of their tickets on general seats to women, which means at least one out of 20 tickets should be given to female candidate.
For the November 15 polls, the Pakistan Peoples Party (PPP) has fielded 23 candidates and Pakistan Muslim League-Nawaz (PML-N) and Pakistan Tehreek-e-Insaf (PTI) 21 candidates each.
The PPP and PTI in compliance with Elections Act 2017 issued ticket to one female candidate each meeting the minimum criteria while the PML-N whose election campaign is being run by party's vice-president Maryam Nawaz has not given ticket to any woman.
Though Jamiat Ulema-e-Islam Pakistan (JUI-P), which has fielded only 12 candidates and was not obligated by the law, has given ticket one women candidate.
Sixteen political parties are taking part in the election with 127 candidates including three women. Out of 200 independent candidates, only one female is contesting the election on independent seat.
JUI-P candidate Mehnaz Wali is contesting from GBA-6 Hunza. She served G-B Legislative Assembly from 2009-2014 on reserved seats for women and also worked as an education minister.
Mehnaz, a resident of the constituency GBA-1 in Gilgit, is contesting the election on a general seat for the first time. She did not get a ticket from her hometown as her party nominated Abdul Hameed Gujjar from that constituency. Instead, she has been given the ticket from GBA-6 in Hunza.
PPP's Sadia Danish is contesting the election on general seat for the first time. She has been issued ticket from GBA-18 Diamer-IV.
Sadia served the G-B Legislative Assembly from 2009-2014 on reserved seat for women and worked as G-B information minister. She was also the adviser to G-B chief minister.
Another female candidate Shehnaz Bhutto is contesting the election as independent candidate from GBA-20 Ghizer-II. She is a social activist and has worked with different NGOs.
The PTI has given ticket to Amina Bibi Ansari from GBA-23 Ghanche-II. Her political career spans over a decade.
She served the G-B Legislative Assembly from 2009-2014 on reserved seats for women.
Out of these four women candidates, only Amina is contesting election on general seat for the second time.
The G-B Legislative Assembly has 24 general seats and nine reserved seats (six for women and three for technocrats).
Since the promulgation of Gilgit-Baltistan Empowerment and Self-Governance Order, 2009, the first general elections were held in November 2009 and the second in June 2015.
The G-B election commission will hold the third G-B Assembly elections on November 15, 2020, under the Elections Act, 2017.
COMMENTS
Comments are moderated and generally will be posted if they are on-topic and not abusive.
For more information, please see our Comments FAQ