 ---
On Monday, the Sindh High Court directed the local police to find Arzoo Masih – a Christian teenager who was allegedly abducted before being forced to convert to Islam and marry a Muslim man. She was to thereby be shifted to a shelter home.
As expected, the case has created a massive uproar on and off social media, with many celebs coming to Masih's defence. Sarwat Gilani, Meesha Shafi, Osman Khalid Butt were just some of the stars to share their thoughts on the matter. Responding to the news of Syed Ali Azhar (Masih's husband) being arrested, the Balu Mahi actor said, "Great news! Now let justice be served."
Shafi, the former lead vocalist for Overload, shared Jibran Nasir's update on the case. Nasir, who is representing Arzoo's parents, also took to Twitter, stating that the court had noted the issues to be addressed were the girl's age, whether she had been forcibly converted and whether her marriage was legal or not. Calling upon the government and police to use all resources at their disposal, he added, "To save our children, the government, police, judiciary, lawyers, civil society and media all should be on one page."
Glad both Sindh & Fed Govt want to pursue #JusticeForArzoo. There is a lot to learn from the injustices committed in this case first by the accused & then by our governance system. With both Govts on board hope this case will become ground for renewed focus on #ChildRights https://t.co/FX4s9MMwe8

— M. Jibran Nasir (@MJibranNasir) November 2, 2020
Nasir further expressed the hope that with both the Sindh and federal governments on board in pursuing justice for Masih, the case would become ground for a renewed focus on children's rights. Moreover, he pointed out similar patterns that appeared in cases of forced conversions and child marriages in the country, claiming that the cleric who certified the conversion was an absconder in other child marriage cases as well.
Shafi wrote, "This has been heart-wrenching so far. More power to you, Jibran Nasir. Praying for Arzoo Masih to be reunited with her parents."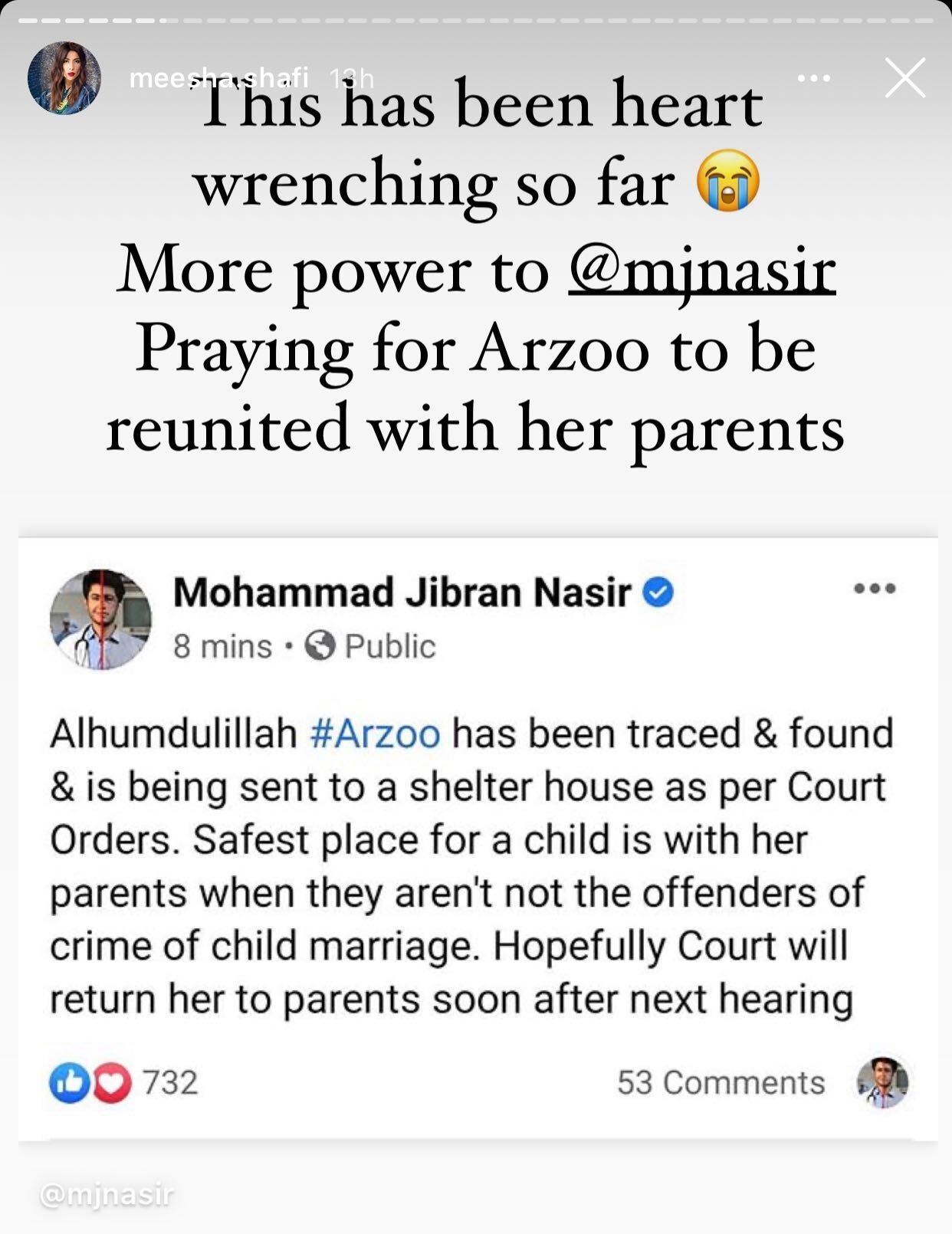 Gilani, on the other hand, shared a video on Instagram and asked her fellow celebs to raise their voices against injustice. "It's very sad that we are all just a party to this circus. We are all silent, even though we shouldn't be. Maybe we are scared to raise our voices against the wrong but we shouldn't be."
The Churails star later took to Instagram and expressed her happiness over the latest verdict in the case.
Backstory
According to the victim's father Raja Masih, she was kidnapped on from their house in Railway Quarters, within the limits of the Preedy police. He claims the kidnapper lived nearby and was an employee of the Sindh government, adding that he abducted Arzoo with the help of his brothers, Mohsin and Shariq, and a friend.
On Saturday, a local court had dismissed a plea seeking the issuance of orders to send Masih to a shelter home. Earlier, a judicial magistrate had granted bail to Azhar's brothers and friend, while the SHC restrained the police from arresting Azhar himself.
Have something to add to the story? Share it in the comments below.
COMMENTS (1)
Comments are moderated and generally will be posted if they are on-topic and not abusive.
For more information, please see our Comments FAQ