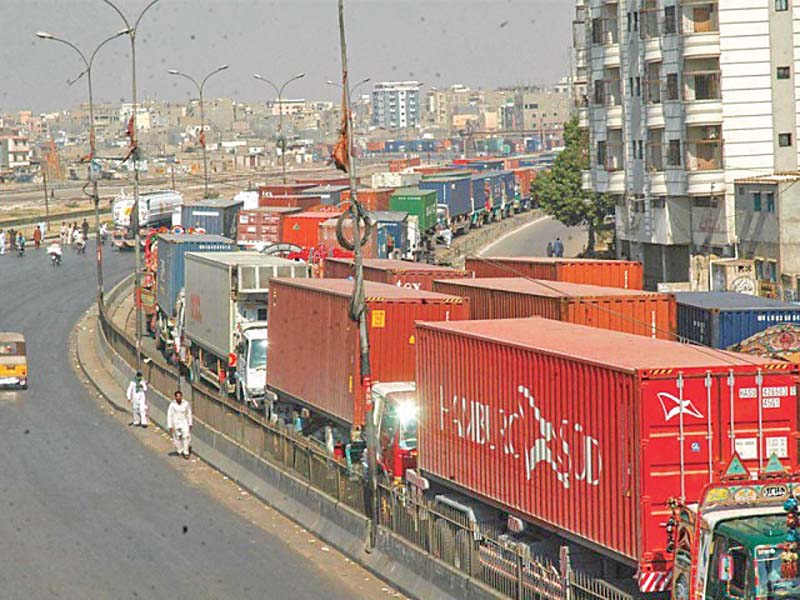 ---
KARACHI:
On Monday morning, Abhan Maheshwari was thrown into a panic after he received a call at work. His wife Sughra and niece Radha were no more. A speeding mini-truck had claimed their lives on Mauripur Road - a thoroughfare extending for three kilometres from ICI Bridge to Lyari Expressway and notorious for deadly accidents.
Not in Abhan's wildest imaginatios had it ever occurred to him that his wife would fall prey to one of the fatal accidents that have become a common occurrence on the road. But she had, and four other women belonging to his community and accompanying his wife and niece had sustained injuries.
Later, still reeling from shock, Maheshwari told The Express Tribune that Sughra, 35, had recently switched her job and was on the way to her new workplace, a factory.
"They [his wife, niece and women injured in the accident] were trying to cross the road when a speeding truck hit them. My wife and niece died on the spot," he whispered, before falling silent.
The silence served as a cue for his relative Karo Maheshwari, the first from the family to reach the hospital, to join the conversation.
"It was the driver's mistake," he insisted angrily "One of the four injured women is still critically wounded."
And the truck driver fled soon after the accident, said Abhan, adding that bystanders and rescue workers had shifted the women to Dr Ruth Pfau Civil Hospital's trauma centre.
The lethal road
On Mauripur Road, fatal crashes are a norm.
"Most accidents are hit-and-runs," Rahat, an Edhi Foundation rescuer deployed on the road, told The Express Tribune, explaining that speeding vehicles would run over pedestrians either crossing the road or waiting for traffic to recede so they could walk to the other side.
He added that most of the victims were women, crossing the road in groups.
Chhipa Welfare Association rescue worker Jawwad, who has also been deployed at Mauripur Road in the first shift this month, said he regularly witnessed accidents there. "At least 24 accidents have been reported here this month, during the first shift," he said, reckoning that a similar number was likely reported during the second shift in October too.
According to rescue workers, most accidents on the road take place at night. "There are no streetlights, so drivers are unable to see people crossing the road at night," explained one.
Meanwhile, area residents and businessmen running shops on Mauripur Road and its vicinity also point to heavy traffic and the lack of safety measure as two of the reasons behind the frequent accidents.
The road lies between two residential areas, with Lyari and Machhar Colony on either side.
"People living here have relatives residing across the road and often walk across to visit them," said Mohammad Ibrahim, a resident of Machhar Colony. "We have lost loved ones here."
He, too, attributes the high frequency of accidents on the road to the absence of streetlights, along with transporters parking heavy vehicles there.
The bane of bridges
The road sees frequent accidents despite the installation of four pedestrian bridges along its length.
According to area residents, the bridges are "unfriendly", especially for the elderly, children and persons with disabilities.
"I cannot walk on this long bridge that has a hole in it," said Mohammad Hasan, an elderly resident of Agra Taj Colony, unnerved at the proposition.
He visits one of his relatives and his daughter in Machhar Colony, across the road, at least twice a week. Dubious about the rickety pedestrian bridges, he said he waited for the traffic to ebb or for others to move before him in order to walk across.
Similarly, Sakina Bai, accompanied by her two children, said she was aware that crossing the busy road was risky, but she would choose it over the pedestrian bridges and suffering daily joint pain.
She talked fast as her eyes wandered along the road's length. She would get her chance to hurry across any moment now and she did not want to miss out. And when she did, she almost ran, with her children tagging along, narrowly escaping a speeding truck.
She and her children were lucky. Sughar and young Radha, though, were not.
Like Abhan, his two daughters and three sons are struggling to come to terms with the tragedy.
Seemingly scared and in a shaky voice, Abhan refused to get a case registered against the yet unidentified driver.
"Let the police do their work," he said, adding that a constable had contacted him on the phone. But in a dazed state, he seemed unable to bring himself to initiate and pursue any legal proceedings, as he himself shared with tears, "I am devastated."
Published in The Express Tribune, November 2nd, 2020.
COMMENTS
Comments are moderated and generally will be posted if they are on-topic and not abusive.
For more information, please see our Comments FAQ