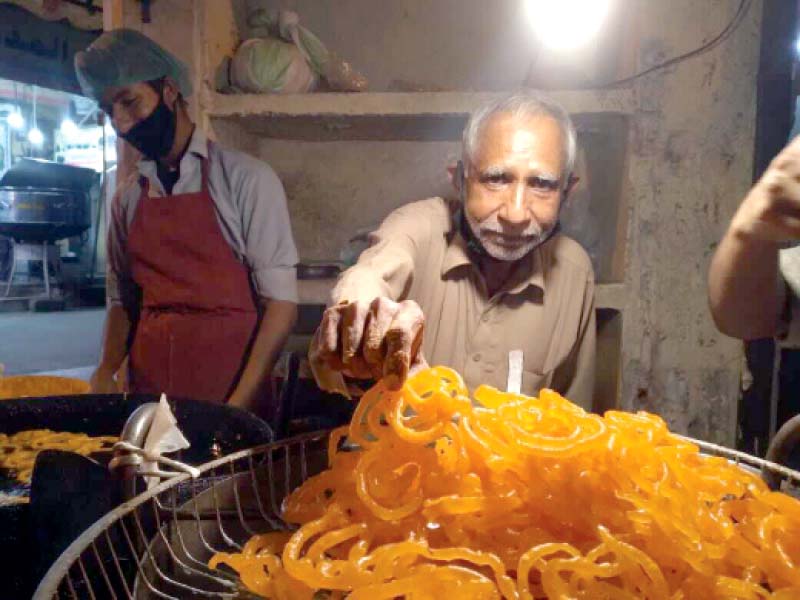 ---
ISLAMABAD:
Crisp, orange and coiled, jalebis are a year-round favourite in many Pakistani towns.
Come winters however, the inviting smell of this sizzling sugary treat wafting from the wok-shaped pots of halwais across the garrison city can water any mouth.
Where there are many jalebi makers in the city, one small shop by the name of Kaka Jalebi, a stone's throw from Jamia Masjid Road, has been Rawalpindi's sweetmeat lovers' favourite haunt since 1991.
Run by 67-year old Javed with the assistance of his son and grandson, the shop welcomes throngs of customers every day from 4:00 PM to 01:00 AM.
"Freshly fried jalebis are irresistible on their own, but in winters a lot of people also prefer having jalebi with milk, which makes for a great breakfast item. There are also people who enjoy the delicacy with their evening tea or with a side of samosas and gulab jamuns for a sweet and savory experience," said the halwai.
Although jalebi has taken identity among the most notable of subcontinent's delicacies over the years, it is said to have originated from West-Asia many hundreds of years ago.
Better known as Zalabiya at the time, Jalebis were introduced to subcontinental cuisine much later in the 15th century and soon became an inextricable part of local celebrations and customs.
For many Pakistani households, weddings and religious festivals are often incomplete without this syrup-dripping treat, the coiled shape of which has also inspired various poetic references and metaphors. "There is always a great demand for my crispy jalebis during Ramazan, Eid Milad-un-Nabi and other festivals. Sometimes people even ask me to package the sweetmeat to be taken to countries like London, Dubai and Saudi Arabia," said Javed.
According to the veteran confectioner, Kaka Jalebi is also popular among various local celebrities and prominent personalities. Some of these notable names include Mustafa Khar, Federal Minister Sheikh Rashid, former Member National Assembly (MNA) Shakeel Awan, former Mayor Rawalpindi Sardar Naseem, Pakistan Tehreek-e-Insaf leader Khawaja Ishtiaq, former MNA Hanif Abbasi, hockey player Akhlaq Usmani and cricketers Shoaib Akhtar and Muhammad Waseem.
"I have no secret recipe. I dole out my jalebis in hot oil using a muslin cloth and douse them in sugar syrup, much like any other halwai does. However, if anything separates my sweets, it is perhaps my use of good quality ingredients and the rest is my lord's blessing upon me," Javed told The Express Tribune.
Published in The Express Tribune, October 27th, 2020.
COMMENTS
Comments are moderated and generally will be posted if they are on-topic and not abusive.
For more information, please see our Comments FAQ