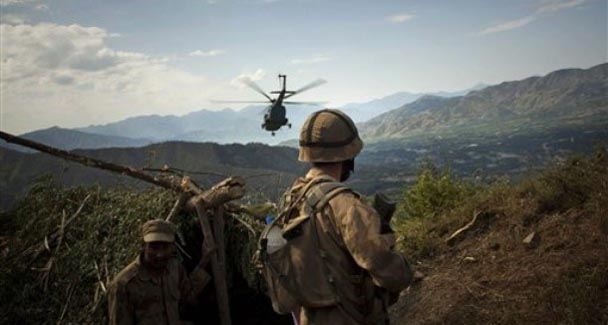 ---
Security forces claimed to have killed 70 militants and destroyed hideouts in various operations in Orakzai Agency on Sunday, as gunship helicopters and jet fighters continued aerial bombardment over the upper regions.

Security forces pounded hideouts of militants in several areas, including Khodat, Khot Killay, Jabba, Mamozai and Sama Bazar in the Upper Orakzai agency, official sources said, adding that in the last twenty four hours alone, 70 militants had been killed and 30 injured. Moreover, they said, eight important hideouts had been destroyed.

The claims could not be independently verified but local sources in Mamozai said that jet fighters pounded a house belonging to civilians, killing two women and four others and injured two more.

Meanwhile, many areas in Lower Orakzai Agency have been secured and in the past few days, families have returned to their homes. Security forces have moved in towards areas that were previously under control of the militants.

The situation in Upper Orakzai Agency, however, remains volatile. Heavy casualties have also been reported in Mohmand Agency.

In Swat, three Taliban militants were killed in a clash with security forces during a search operation at Mangaltan of Charbagh district.

According to official sources, three militants identified as Hussain Ali, Habib Ahmed and Abdul Qayyum were killed. All of them belonged to Charbagh and were identified by the local people.

Security forces had launched this search operation following the killing of two local members of the Swat peace committee by unidentified men. Five militants were killed and many houses, suspected to belong to militants.

Published in The Express Tribune, June 21st, 2010.
COMMENTS (1)
Comments are moderated and generally will be posted if they are on-topic and not abusive.
For more information, please see our Comments FAQ