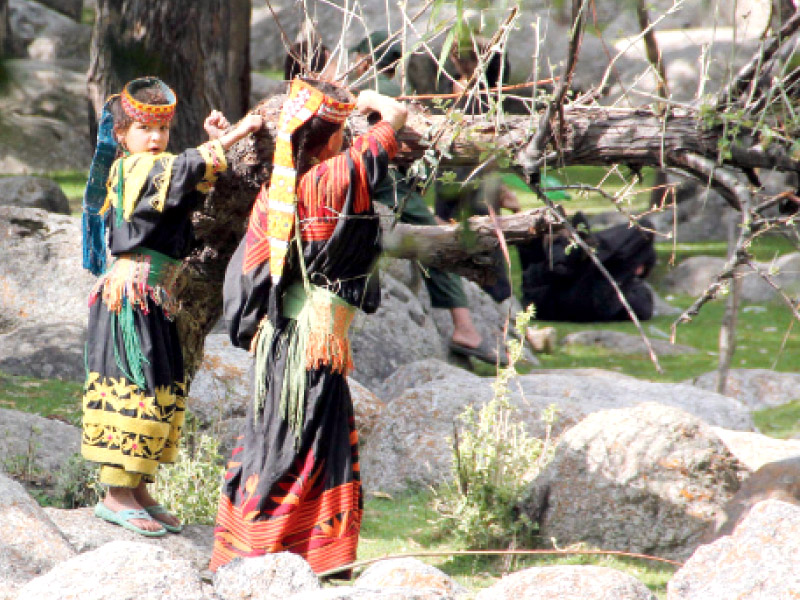 ---
PESHAWAR:
After deciding to enact a law for the recognition of their marriages, the provincial government has approved the establishment of the Kalash Valleys Development Authority (KVDA) to preserve the ancient culture of Kalash in Chitral.
This was announced by Khyber-Pakhtunkhwa (K-P) Chief Minister's Special Assistant on Minority Affairs Wazirzada while signing a memorandum of understanding (MoU) with the Pakistan Council of World Religions Chairman Qari Rohullah Madni.
With a population of just 4,000, the Kalash tribe are fast disappearing with their culture has been recognised by the United Nations as an 'intangible' culture.
Documents of the K-P government show that the proposed authority will not allow the construction of new buildings in residential areas of the valley without approval while all development schemes for the ancient tribe will be monitored to ensure they do not damage their culture.
Buildings which have already been constructed by the members of the Kalash tribe living in the area will not be demolished.
Earlier, the K-P government had announced to introduce the Kalash Marriage Act keeping in view of rituals and traditions of the ancient community in Chitral valley apart from resolving issues of marriages, divorce and inheritance per religious beliefs and customs.
At the moment, Wazirzada said, courts refer issues of marriages and inheritance to the local jirga for a settlement. However, problems arise when both sides involved in the dispute refuse to accept the jirga's decision.
"There is no concept of forced marriages in the Kalash community," he said, adding that the law will provide legal cover to local traditions and customary laws.
The law will be tabled in the provincial assembly after completing legal requirements by the relevant authorities.
The special assistant said that the provincial government has allocated a job quota for minorities in the province.
On the longevity of the Kalash culture, he said that it was preserved due to harmony between locals.
Published in The Express Tribune, October 25th, 2020.
COMMENTS
Comments are moderated and generally will be posted if they are on-topic and not abusive.
For more information, please see our Comments FAQ