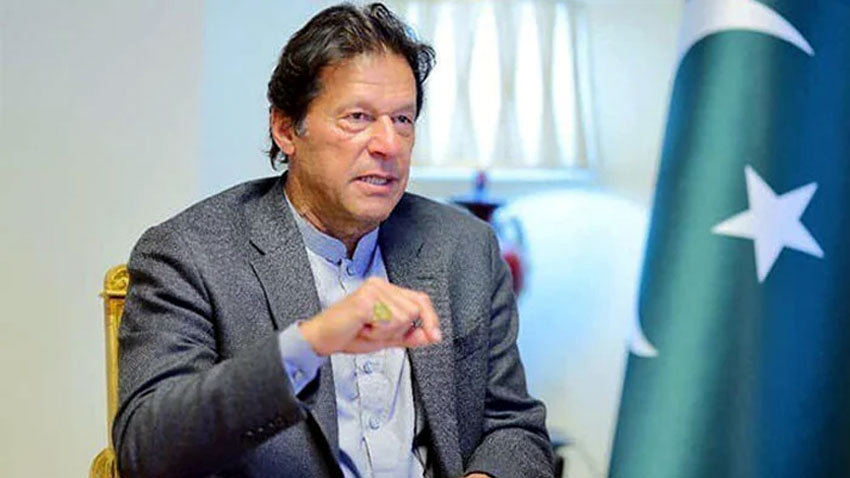 ---
ISLAMABAD:
Indirectly hitting out at his political opponents particularly former prime minister Nawaz Sharif, Prime Minister Imran Khan has said the people who live in palaces and who go to London for medical checkups could not understand the woes of the common man.
"I have seen the living conditions of the people of Mianwali [his native city]. I faithfully believe that unless a person knows how people live in backward areas, he will not be able to help them out," Imran said while addressing a public gathering at his hometown amid warning of a second wave of Covid-19.
"Those who spend their lives in big palaces in Lahore and become chief ministers; the ones who get themselves medically examined in London; whose children are in London; how would they realize how people are living in these [backward] areas," he added.
Imran was indirectly referring to the PML-N leaders – Nawaz Sharif and his brother Shehbaz Sharif – both of which have served as the chief minister of the country's most populous province.
Convicted former prime minister Nawaz has been in London since November 2019 after he got bail in a corruption case and later a rare permission to fly to London to get medical treatment. Both sons of Nawaz – declared proclaimed offenders by courts – are also in London.
The PM said this was the reason why he chose Usman Buzdar as the chief minister of Punjab.
"I chose Buzdar because of the reason that only a man who understands the difficulties of the poor people would be able to solve their problems," he added.
Admitting that many have been questioning his choice for the top position in the province, the prime minister said Buzdar belongs to Dera Ghazi Khan, which is the most backward district of Punjab.
Imran said DG Khan was even more backward than Mianwali but several other districts of the province were facing similar issues. "Nations do not prosper if all the money is spent on two, three cities. No nation progresses like that."
He reiterated that Pakistan will one day emerge as a strong country in the comity of nations and the dream of Naya Pakistan will come true. "I urge people to show some patience. Pakistan will emerge as a powerful country of the world."
Separately, addressing the ground breaking ceremony of the Namal Knowledge City Phase-1 in Isa Khel, he said investment in human capital and promotion of the knowledge economy are key to development.
He assured the marginalized population residing in remote areas that the government will protect the rights of the weaker sections and make sure that no one is exploited.
Imran expressed deep gratitude for the commitments made by donors worth millions of dollars. He laid stress on the availability of affordable and quality higher education opportunities for the talented youth of Pakistan. He said good education lays the foundation for a tolerant and progressive society.
According to the official statement released after the event, more than 10,000 students from deprived areas would benefit from the Knowledge City after completion of the first phase-1 and the project would be environment friendly and a state-of-the-art green structure.
He said he aims at making this institute an internationally renowned centre of excellence.
The premier also inaugurated a new hostel block at the Cadet College Isa Khel. He also laid the foundation stone of a clean water supply project for the area, especially for the Khattak belt.
The total cost of the clean water supply project is Rs3.2 billion, of which 80 per cent will be provided by the federal government and 20 per cent by the Punjab government.
The project will supply 3.4 million gallons of water per day to 87 villages and 151 settlements with a population of about 2.5 million. The project will be powered by solar energy and upon completion will be able to store water for up to 3 months for dry season use.
Imran said the government was focusing on providing basic health and education facilities to the people of remote areas. He said a new system is being evolved to ensure the presence of doctors in the hospitals of far-flung areas.
He said the government is keen to transform the police into such a dynamic force that protects the weak segments of society. He directed the Punjab Inspector General of Police to ensure that the common man is treated fairly at the police stations.
Before his address, Imran was given a detailed briefing about the Rs19 billion Mianwali development package that would be utilized for road infrastructures, resumption of 46 water supply projects and reconstruction of tehsil hospitals in Piplan and Kalabagh.
He was also briefed on the progress of children's hospital, addition of 400 classrooms in existing schools, construction of 77 dilapidated school buildings and projects of Mianwali University. Imran said special attention should be paid to the education facilities for girls and women.
Later, Imran took an aerial view of the clean water supply project for Isa Khel Tehsil and adjoining tehsils. He had started Saturday's campaign by administering polio drops and also planted saplings.
COMMENTS
Comments are moderated and generally will be posted if they are on-topic and not abusive.
For more information, please see our Comments FAQ