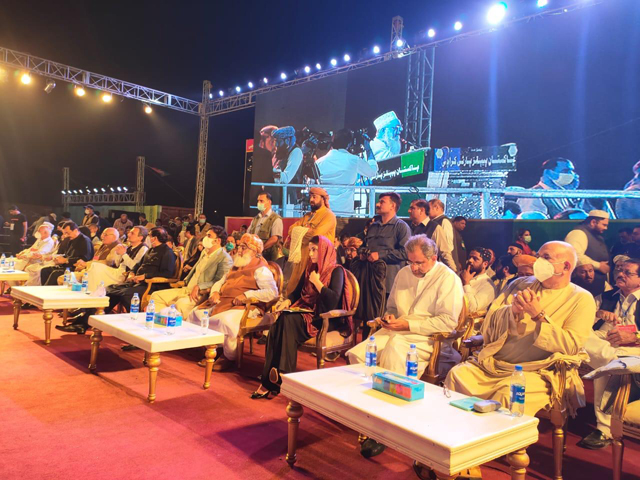 ---
The Balochistan government has appealed to the leadership of the Pakistan Democratic Movement (PDM) to postpone its upcoming Quetta public meeting, citing a "security alert" issued by the National Counter Terrorism Authority (Nacta).
After holding two rallies – one in Gujranwala on October 16 and the other in Karachi on October 18 – the opposition alliance is scheduled to hold its third power show in Quetta on October 25.
Speaking at a news conference on Friday, spokesperson Liaquat Ali Shahwani said that Nacta has issued a "threat alert" for Quetta and Peshawar public meetings and rallies, warning about possible subversion activities on credible information.
"We are not afraid of the PDM's public meetings," the spokesperson said, adding that he was requesting for postponement of the Quetta public meeting in the larger interest and protection of the people, who are expected to come from all over the country.
Shahwani stressed that it is the responsibility of the leadership of the opposition's alliance to seriously consider Nacta's warning and security alert.
In a statement issued on Thursday, Nacta said, "It has been reported that the Tehreek-e-Taliban Pakistan in connivance with HIAs have planned to carry out large-scale terrorist activities in Quetta and Peshawar, targeting political and religious leadership.
"Reportedly, the terrorist plan includes assassination of high-profile political personality(ies) through a well-articulated bomb blast/suicide bombing in the near future."
The Balochistan spokesperson claimed that the opposition parties could not gather more than 3,000 people in Quetta, of which, 70 to 80% people would be brought from other provinces. "The PDM should hold their public meeting and rally after obtaining clearance from Nacta and by postponing Sunday's public meeting, the provincial government would have sufficient amount of time to make strict security arrangements.
"The provincial government is not against holding public meetings, as it is the opposition's democratic right but security threats are a cause for great concern," Shahwani said. "The law enforcement agencies have arrested many people after the issuance of the 'threat alert' and efforts are under way for tracing elements involved in such activities."
He said that the provincial government would provide all possible security to the PDM for holding their public meeting and would also provide sanitisers and face masks to the participants to stop Covid-19 from spreading.
He said that during the Gujranwala rally, the PDM leadership did not implement the standard operating procedures agreed with the local administration in written accord.
He said that Balochistan faces a big risk as people coming from other provinces could bring coronavirus with them. "If coronavirus cases increase in Quetta and other areas of the province, the PDM leadership will be held responsible."
The Nacta statement read that on October 21, "eight x IEDs have been recovered from Qamar Din Karez, Balochistan; the explosive material was most likely destined for Quetta and Khyber-Pakhtunkhwa".
"Heightened security measures on all important gatherings of political and religious leaders are, therefore, essential in this regard."
COMMENTS
Comments are moderated and generally will be posted if they are on-topic and not abusive.
For more information, please see our Comments FAQ