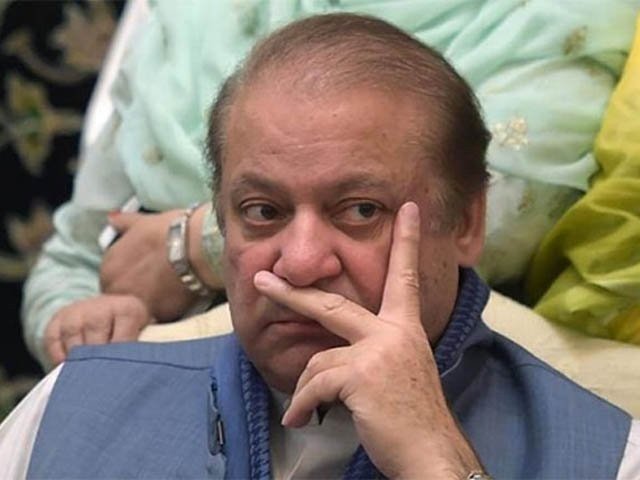 ---
ISLAMABAD:
The National Accountability Bureau (NAB) on Thursday granted approval for filing corruption references against former premier Nawaz Sharif, his former principal secretary Fawad Hassan Fawad, party leader Ahsan Iqbal and others.
The approval was given in the executive board meeting (EBM) of the NAB, which was presided over by Justice (retd) Javed Iqbal.
The EBM was attended by senior officials of the NAB including its deputy chairman, prosecutor general accountability, DG operations and others.
The meeting granted approval for filing 11 references and carrying out four investigations.
The anti-graft buster also approved filing corruption references against former foreign secretary Aizaz Ahmed Chaudhry and ex-Intelligence Bureau chief Aftab Sultan.
In a statement, the anti-corruption watchdog said that Nawaz Sharif, Fawad Hassan Fawad, Aizaz Chaudhry and Aftab Sultan had been allegedly involved in the illegal purchase of 73 vehicles for the security of high-level foreign dignitaries and added that it had caused a loss of Rs1952.74 million (approx Rs2 billion) to the national exchequer.
They were further accused of nepotism and misusing using these vehicles.
Sharif had left for London in November last year after the Lahore High Court granted him a four-week permission to go abroad for treatment.
He had submitted an undertaking to the court to return to Pakistan citing his record of facing the law and justice within four weeks or as soon as he was declared healthy and fit to travel by doctors.
He was also given bail in the Al-Azizia Mills corruption case in which he was serving a seven-year prison sentence in Kot Lakhpat Jail.
The national graft buster also approved filing corruption reference against PML-N Secretary General Ahsan Iqbal, former DG Pakistan Sports Board (PSB) Dr Akhtar Nawaz Ganjera, PSDP specialist Muhammad Asif Sheikh, PSB assistant engineer Sarfraz Rasool and M/s Ahmed and Sons contractor/owner Muhammad Ahmed in the Narowal Sports City project.
The NAB alleged that these personalities had misused their authority and increased the scope of the Narowal Sports City from Rs30 million to Rs3 billion.
The NAB statement said that these people had used their personal resources and illegally acquired funds from the federal government for the provincial government's project after the 18th Amendment, which caused losses worth billions of rupees to the treasury.
The EBM also sanctioned filing references against former Balochistan chief minister Nawab Aslam Raisani, BNP leader Lashkari Raisani and others for allegedly embezzling provincial government's funds worth Rs817 million.
Besides, it allowed investigations against PML-N Punjab president Rana Sanaullah and others, PTI MPA Aleem Khan, Park View Villas/River Edge Housing Society Lahore and others, M/s Islamabad Testing Service (Pvt) Ltd management and others and former PTV managing director Yousuf Baig Mirza and others in corruption cases.
According to the statement, corruption reference was also approved against former Capital Development Authority (CDA) chairman Farkhand Iqbal, former planning and design member Abdul Aziz Qureshi, former Planning DG Ghulam Sarwar Sandhu, urban planning's Mehboob Ali Khan, former director Waqar Ali Khan and others for allegedly using the clinic land for commercial purposes.
The EBM also okayed corruption reference against Clean Drinking Water for All former project director Sikandar Javed, Nespak General Manager Jamil Bajwa and others for misusing their authority and rendering a loss of Rs9 billion to the national exchequer.
It approved corruption reference against former interior secretary Shahid Khan, National Police Foundation (NPF) former managing director Muhammad Rafique Hassan and others for illegally allotting a commercial plot in the NPF housing scheme and later selling it for Rs40 million.
The anti-graft watchdog sanctioned filing a corruption reference against former National Testing Service CEO Haroon Rasheed and others and former Sindh audit DG Ghulam Akbar Sahu and others.
It also approved a reference against former Sports DG Usman Anwar and others.
The NAB chairman reiterated the resolve that the anti-graft body wanted a corruption-free Pakistan and its first and foremost priority was ensuring the logical conclusion of all mega corruption cases.
He further stated that the NAB was not related to any group, person or political party but to the state only and added that the steps to nab absconders and proclaimed offenders would be taken according to law to bring them to justice.
COMMENTS
Comments are moderated and generally will be posted if they are on-topic and not abusive.
For more information, please see our Comments FAQ