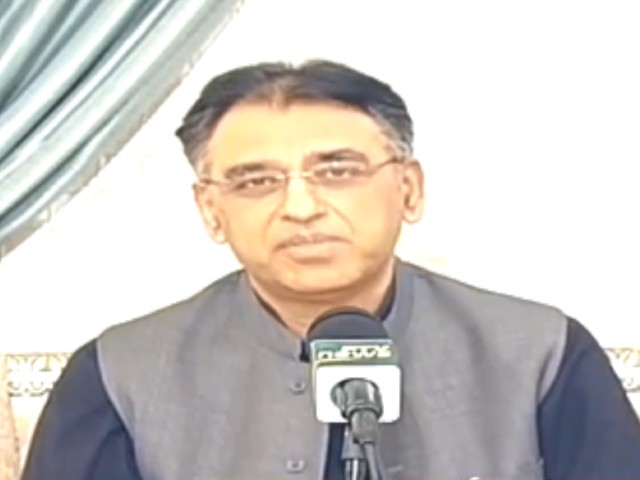 ---
ISLAMABAD/ KARACHI:
A day after the minister for railways accused three-time former prime minister Nawaz Sharif of playing in the hands of arch nemesis India, another key member of Prime Minister Imran Khan's cabinet rebuked the PML-N supreme leader for selling the Indian narrative.
"The Indian narrative that you [Nawaz] are selling will sell, neither in Pakistan nor across the world. You and India can level any allegation against the state institutions you want," said Minister for Planning Asad Umar while addressing a press conference on Sunday.
Umar was referring to Nawaz Sharif's fiery speech at the Pakistan Democratic Movement (PDM) rally in Gujranwala on Friday. In the diatribe, the convicted former premier categorically accused army chief General Qamar Javed Bajwa of interfering in the political affairs of the country.
The minister said Nawaz Sharif never mentioned the name of convicted Indian spy Kulbhushan Jadhav in any of his statements and never raised his voice against Indian atrocities in Kashmir.
"Why is Nawaz Sharif in touch with Indians? The time for Nawaz Sharif to hold others accountable is over. Now it was time for Nawaz Sharif to answer," he said.
He said the politics of Nawaz Sharif is based on hypocrisy. "All these political movements and speeches have nothing to do with democracy and civil supremacy. The opposition only wants to protect money it made gathered through corruption."
The minister said many followers of Nawaz claim that he had criticized individuals and not institutions in his speech. "But I will prove that Nawaz has problems with state institutions, not with any individual. Nawaz's politics is based on confrontation with the institutions."
He said Nawaz leveled a number of allegations against the army chief but his party had earlier this year voted for a constitutional amendment to pave way for reappointment of General Qamar.
Umar said the former premier had sent an envoy to the government twice to secure an NRO – secret reprieve – for himself and his daughter – Maryam Nawaz – but now he was criticizing state institutions.
"This did not happen a decade or months back. It happened a few weeks ago," he said.
He said it was the Supreme Court which declared Nawaz a liar and kicked him out of the Prime Minister Office after Panamagate scandal in 2017. "He is a convicted prisoner who has fled the country and is now sitting in London," he said.
Separately, Minister for Information Shibli Faraz took to micro blogging site Twitter to declare that the opposition's alliance – the PDM – has no sense of direction and unity.
"They do not have anything to offer to people and are talking about their personal problems. This time [JUI-F chief] Maulana Fazlur Rehman should address first in the public meeting [in Karachi on Sunday] as the last time he addressed empty chairs [at Gujranwala rally]," he said.
Talking to the media in Multan, Foreign Minister Shah Mahmood Qureshi also criticized the opposition parties for trying to dislodge a democratically elected government by holding public rallies.
He, however, said the opposition would gain nothing from these "conspiracies".
"If we announce snap polls in the country, will it be possible for the coming government to complete its tenure and bring political stability in the country?" he asked. "The PTI government is democratically elected and acknowledged internationally."
He said the PDM is creating hurdles in the way of revival of the economy and urged masses, especially traders to ignore the opposition's agenda. Qureshi also urged PPP chief Bilawal Bhutto Zardari not to support the Indian narrative on Indian Illegally Occupied Jammu and Kashmir (IIOJK).
"The incumbent government of the PTI has internationalized the issue of IIOJK. Bilawal should not let Kashmiris be disappointed. The entire Pakistan has the same stance on the IIOJK and the stance will remain the same in future also," he added.
COMMENTS
Comments are moderated and generally will be posted if they are on-topic and not abusive.
For more information, please see our Comments FAQ