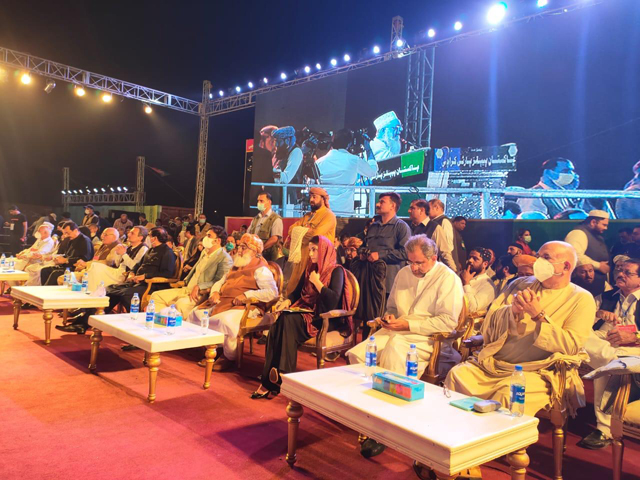 ---
KARACHI:
Heavyweights of Pakistan Democratic Movement (PDM) including Bilawal Bhutto Zardari, Maryam Nawaz and Maulana Fazlur Rehman flexed muscles at Bagh-e-Jinnah – a public park adjacent to the Quaid's mausoleum – for the second showdown of the political alliance on Sunday.
The ground was jam-packed with a huge crowd including activists and supporters of all opposition parties.
Hosted by the PPP, as it commemorated the 13th anniversary of the Karsaz blasts, the event was held at a venue that has stood witness to many political events of the port city, and the ensuing promises of change.
Besides being addressed by the top PPP leadership, the jalsa was also addressed by Pakistan Muslim League-Nawaz (PML-N) vice president Maryam Nawaz and Jamiat Ulema-e-Islam Fazl (JUI-F) leader Maulana Fazlur Rehman. Other political party leaders that are a part of the grand democratic alliance also attended the event.
Opposition leaders in Karachi as Pakistan Democratic Movement's public gathering gets under way in Karachi

Posted by Express Tribune on Sunday, October 18, 2020
Maulana Fazlur Rehman
JUI-F chief Maulana Fazlur Rehman, while addressing the rally, ridiculed Prime Minister Imran Khan over his Saturday's speech, saying "he [PM] always makes a blunder whenever he speaks".
Fazl said for the last two years, opposition parties had been forced to accept the PTI-led government which he claimed came into power through "unprecedented rigging in 2018 elections".
PDM's prime objective is to restore genuine democracy in the country and we will not backtrack from this principled stance, said the head of the opposition alliance.
"Come what may we will not accept this government but will make those who brought this selected prime minister into power realise their mistake," he added.
"Pakistan is incomplete without us… Pakistan and its economy can only prosper when all of its institutions work within their constitutional limits," Fazl said, adding that no constitutional amendments against the provincial autonomy would be accepted by the opposition parties.
Bilawal Bhutto Zardari
PPP chairperson Bilawal Bhutto Zardari, while addressing the jalsa, alleged that conspiracies were being hatched to separate Karachi from Sindh while accusing the federal government of depriving the masses of their basic rights.
"Attempts are being made to snatch the rights of the people of Sindh and Rs300 billion were not given to Sindh under NFC award," he said and warned the federal government against "occupying" the islands near Karachi's shore.
The PPP chief also paid tribute to the martyrs of Karsaz incident on its 13th anniversary, saying "they sacrificed their lives to write a new chapter in the country's history".
Bilawal said his grandfather Zulfikar Ali Bhutto and mother Benzair sacrificed their lives to strengthen the democracy in the country. "We have to fight a war for the supremacy of law, democracy and Constitution."
The PPP stalwart said opposition's struggle is not for the power but to ensure the right of the masses via real democratic system.
"All those doors are being closed through which rights of the masses can be ensured," he alleged.
He said in the absence of democracy, the decisions are being made to protect the interest of few individuals.
Bilawal claimed that 'selected' prime minister Imran Khan was unaware of the issues being faced by masses including historic inflation and rising poverty.
Maryam Nawaz
PML-N vice president Maryam Nawaz in her maiden address at a PPP-hosted rally lashed out at Prime Minister Imran Khan, saying she considered it "below dignity to respond to his allegations".
She was responding to the hard-hitting speech of PM Imran wherein he mocked Maryam by calling her "Nani" [grandmother].
"I am thankful to Allah that I am not a grandmother of only one child but of two," she said, adding that being a grandmother is matter of great pride for her.
"When I came to Karachi... I remembered Benazir Bhutto. I just met her once and she spent three hours with me and treated me as a mother would in that time. I will never forget her kindness," said the PML-N vice president.
"You could tell how one jalsa of ours [Gujranwala rally] made PM Imran Khan shudder in his speech yesterday," she said.
At least have the decency to respect the prime minister's office that you hold...look at the way you conduct yourself, Maryam said while addressing PM Imran Khan.
"Bilawal Bhutto respects me like his elder sister and we will always show respect for each other despite any political differences," she remarked.
Maryam expressed gratitude to the PPP leadership for giving her historic welcome in the Sindh capital, saying" "I did not find any difference between the streets of Lahore and Karachi".
PM Imran has panicked after opposition's first PDM rally which was clearly visible on his face, said Maryam, advising him to learn how to react during difficult times from former PM Nawaz Sharif. "When he [Imran Khan] staged a sit in Islamabad, Nawaz Sharif did not panic for even once and dealt with him comfortably."
She also said that PDM's struggle was not against PM Imran-led government. "You have nothing to do in the fight of elders. You selected PM are just working on salary…"
Responding to allegations that her father Nawaz is speaking Indian Prime Minister's Narendra Modi's language, Maryam said: "You [PM Imran] prayed for the success of Modi [in elections], passed an ordinance to help Kulbhushan [Indian spy] and compromised the issue of Kashmir."
She asked PM Imran to stop dragging army into "dirty politics" and stop being a spokesperson of the military.
The PML-N stalwart said her party salutes the Pakistan Army and those officers and soldiers who act within their Constitutional limits.
Sardar Akhtar Mengal
Balochistan National Party (BNP) chief Sardar Akhtar Mengal, who quit the ruling coalition earlier this year, said the example of so called democratic system prevailing in Pakistan was nowhere to be found in the world.
He said under this democracy, elected prime ministers of Pakistan were sentenced to death or banished from the country.
Mengal alleged that efforts are being made to occupy the islands of Sindh and Balochistan, saying "no one would be allowed to invade our resources".
Mahmood Khan Achakzai
PkMAP chief Mahmood Khan Achakzai said PDM was not formed for mudslinging and to humiliate other political leaders but its struggle is for the rule of the masses.
Recalling the assassination of late PPP leader Benazir Bhutto and other similar incidents, Achakzai lamented that the perpetrators of terror attacks had not been taken to task up till now.
Amir Haider Khan Hoti
Awami National Party (ANP) leader and former Khyber-Pakhtunkhwa chief minister, Amir Haider Khan Hoti said the PTI had staged a sit-in in 2014 against elected government "whereas our [PDM] movement is against the selected government".
Calling PM Imran 'selected', he said no one had approached him for NRO and added that the entire PTI would need a NRO when a decision of foreign funding case against ruling party is pronounced.
Abdul Malik Baloch
Former Balochistan chief minister and leader of National Party, Abdul Malik Baloch called upon the government to resolve the matters of restive region through dialogue with the armed groups.
Addressing the rally, he said the enforced disappearances of the innocent people should be stopped immediately and urged the PTI-led government to immediately withdraw ordinance related to Bundal Island near Karachi's shore.
Mohsin Dawar
Pashtun Tahaffuz Movement (PTM) MNA Mohsin Dawar, addressing the crowd, thanked Bilawal for inviting him to the rally and giving him an opportunity to present his demands before the people of Karachi.
He demanded Prime Minister Imran Khan to formulate the truth-finding commission to investigate allegations levelled by PML-N supremo Nawaz Sharif at Gujranwala rally. PPP workers at Bagh-e-Jinnah rally. PHOTO: EXPRESS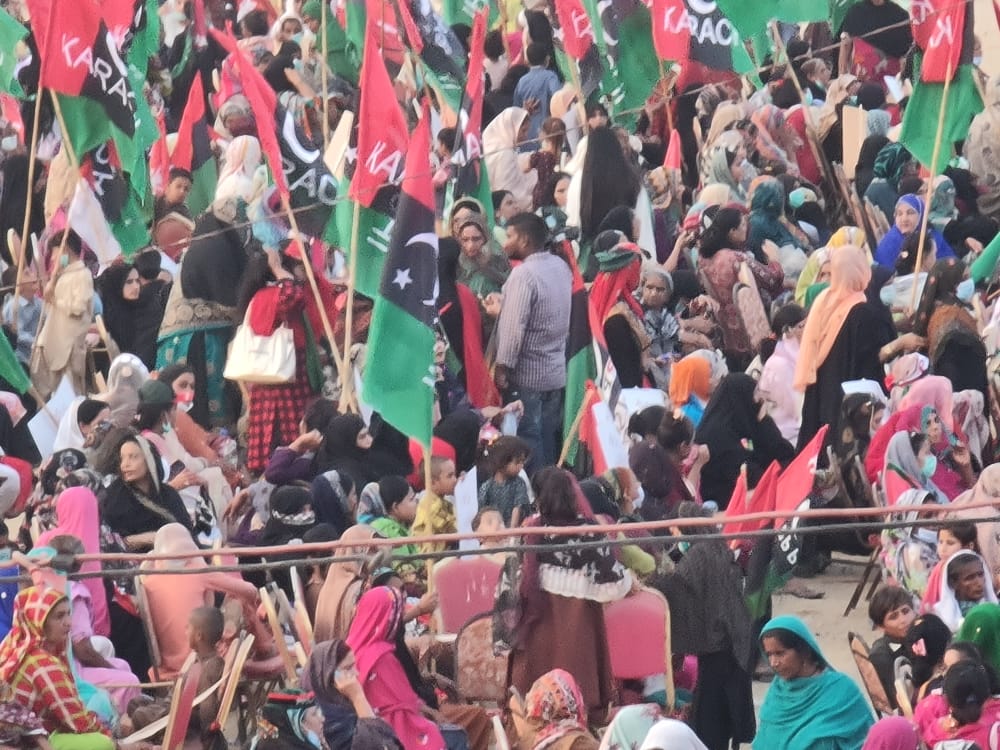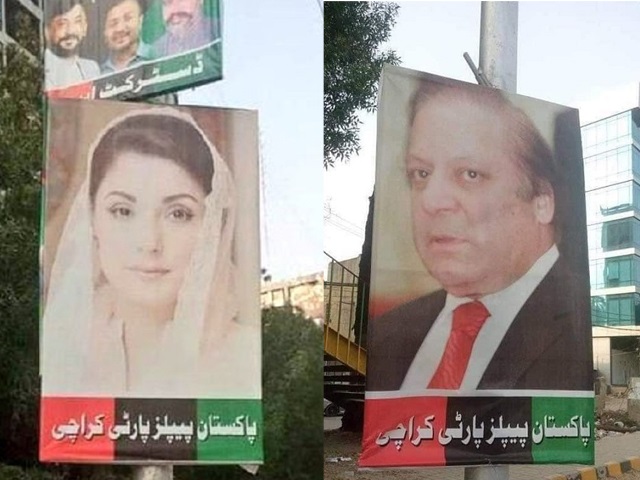 Maryam in Karachi
Having landed in Karachi at quarter past noon, the PML-N vice president reached the Quaid-e-Azam's mausoleum amid a huge crowd of party supporters four hours later. The PML-N supporters had been accompanying her convoy in the form of a rally that made its way slowly towards the mausoleum from the Karachi airport.
The PML-N leader offered fateha at the Quaid's grave before she made her way to the venue of today's jalsa.
Maryam was accompanied by senior party leaders including party spokesperson Marriyum Aurangzeb, Capt (retd) Safdar, former Sindh governor Muhammad Zubair and former prime minister Shahid Khaqan Abbasi.
In a goodwill gesture, the PML-N vice president was welcomed by the PPP to large panaflexes of her and her father's, PML-N supremo Nawaz Sharif, pictures along the route of her rally.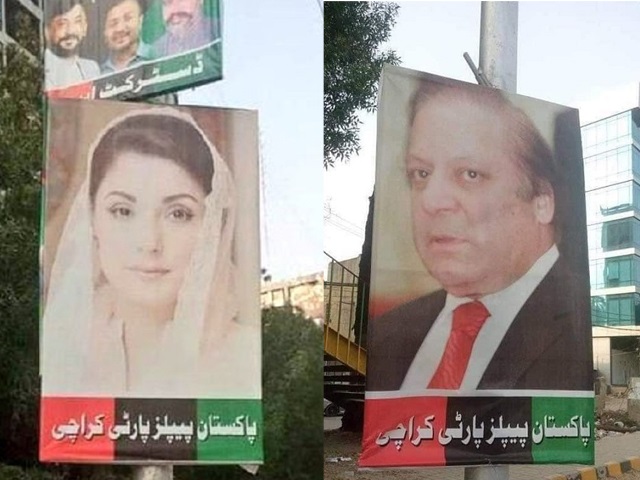 The PML-N leader left for Karachi from Lahore earlier in the morning. Responding to media personnel's questions regarding Prime Minister Imran Khan's reaction to PML-N supremo Nawaz Sharif's speech at the Gujranwala showdown, on her way to the Lahore airport from Jati Umra, Maryam said, "It was a speech of a person who had lost. Mian Nawaz Sharif did not even address the prime minister; he had said this 'game' is above you [PM Imran] and you should stay out of it".

In response to the Pakistan Tehreek-e-Insaf-led federal government's dismissal of the event as a 'failed show of power', the PML-N vice president said, "The government is unable to see things right now, but it will all be clear to them in a few days".
Scenes at Bagh-e-Jinnah
With the PPP at the helm of affairs in Sindh, the party expected a smooth sailing for the Karachi jalsa. And a smooth sailing it was. Preparations were in full swing since Saturday with the local administration cooperating fully, unlike in Gujranwala.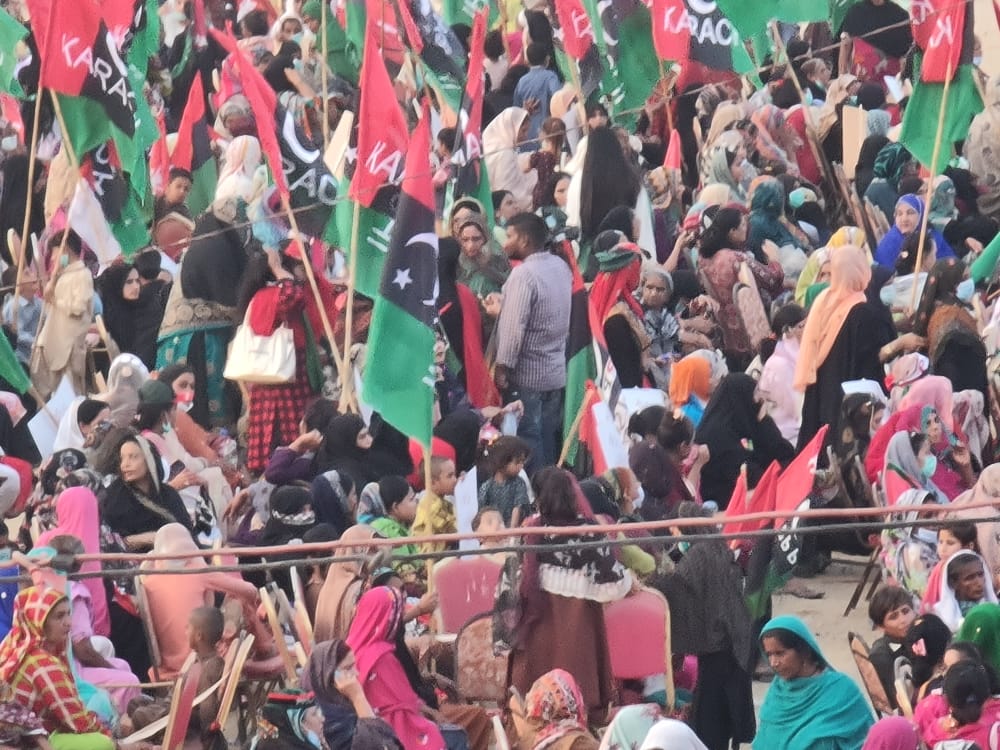 PPP chairman Bilawal Bhutto Zardari had also paid the venue a visit a day ago to oversee the preparations, where he was briefed by Sindh Chief Minister Syed Murad Ali Shah as well as PPP's Karachi president, also the provincial labour minister, Saeed Ghani.
Taking advantage of being on the home ground, the host party's supporters had started reaching the venue from a little early in the day. The groups of people gathered at the venue sang, danced and clapped to the party's songs as they waited for their leaders to show up.
'Whole of Pakistan will be on one page against this govt'
Former prime minister Shahid Khaqan Abbasi whle talking to media in Karachi said that the voice of Gujranwala was heard in PDM's first rally, "and you will hear Karachi's voice too today".
Abbasi added that soon the whole of Pakistan will be on one page regarding this government's failure.
"This government has made everyone miserable because of inflation," the former PM said, adding that the only way forward was that people are able to voice their opinions and are respected.
Nasir Hussain Shah
Sindh Information Minister Syed Nasir Hussain Shah while talking to the media at Bagh-e-Jinnah said that the enthusiasm of the workers here was historic.
There will be millions of people in today's event, and not just inside the venue, but around it as well, he said.
"This would be a referendum against the puppet government," he said. "This incompetent government has isolated Pakistan from the world. They always play blame games instead of talking about their performance," the provincial minister said.
Shah added that arrangements had been made for Nawaz Sharif's address, but it was now the prerogative of the PML-N to air him.
He also criticised Prime Minister Imran Khan's yesterday's address at a gathering of PTI's volunteer force -Tiger Force - in what was an apparent reference to one of the government's many criticisms on the opposition's Gujranwala showdown. "Why weren't the SOP's followed there?" he asked.
Shah added that, "He [Imran] has made the institutions controversial. His incompetency is allowing for the institutions to be blamed. It has been proved to everyone that they are liars and they are making allegations only."
He added that Pakistan was the most important thing for the PPP, then its people and then the institutions.
Gujranwala showdown
The Pakistan Democratic Movement (PDM) began its countrywide protest campaign against the incumbent government by holding a maiden power show in Gujranwala on Friday, which the opposition termed a "decisive referendum against the incompetent" rulers.
The PDM, comprising around a dozen opposition parties on a joint platform to get rid of the ruling Pakistan Tehreek-e-Insaf, was formed last month and had planned six big rallies across the country until December to force the government to call fresh elections.
Top leaders of all major parties, including PML-N Vice President Maryam Nawaz, PPP Chairman Bilawal Bhutto Zardari and PDM president and Jamiat Ulema-e-Islam-Fazl (JUI-F) chief Fazlur Rehman, were present at the gathering held at the Jinnah Stadium.
Deposed prime minister Nawaz Sharif also joined the rally via a video link from London, as the leaders continued their speeches.
In their addresses, the heads of the PDM constituent parties fired a broadside against the government and particularly made Prime Minister Imran Khan the target of their trenchant criticism, accusing him of failure in fulfilling the promises he made to the people before the 2018 elections.
A day after the Gujranwala rally, Prime Minister Imran Khan gave a no-holds-barred rejoinder to his political arch-nemesis, Nawaz Sharif, heaping scorn on him for "trying to sow discord in the military, the judiciary, and the government" in an attempt to escape accountability for his massive financial corruption".
COMMENTS
Comments are moderated and generally will be posted if they are on-topic and not abusive.
For more information, please see our Comments FAQ